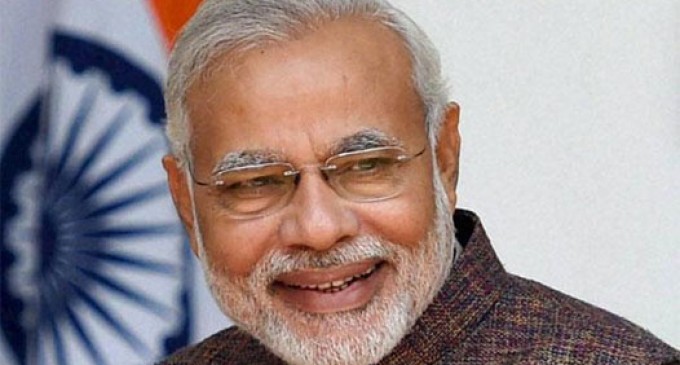 New Delhi, Nov 10 As he embarks Tuesday on a 10-day three-nation tour, Prime Minister Narendra Modi said Monday a "key issue" would be to highlight the importance of international cooperation against black money at the G20 summit in Brisbane as well as focus on next generation infrastructure and clean and affordable energy.
In a departure statement, on the eve of his visit to Myanmar, Australia an Fiji, Modi said he looks forward to meeting leaders from other countries at the summits in Nay Pyi Taw, Myanmar, and Brisbane, Australia.
He said he leaves for the three countries "with a great sense of anticipation and fully conscious of the significancea of the India-ASEAN Summit and East Asia Summit on Nov 12-13 in Nay Pyi Taw, the G20 Summit in Brisbane, the bilateral visit to Australia and the visit to Fiji.
Modi said he will be meeting with over 40 leaders from countries representing Asia, Africa, Europe, North America, South America and Pacific Region, as also heads of many multilateral institutions during the summits.
"These meetings are taking place at a time of multiple global challenges. I look forward to seeking a global environment that supports our aspirations for economic development and a peaceful world," the statement said.
He described the ASEAN as "at the core of our Act East Policy and at the centre of our dream of an Asian century, characterized by cooperation and integration".
Modi said he is looking forward to discussing with ASEAN leaders how to take the relationship to a new level.
He said "no other forum, perhaps, has as much potential to shape this region and the world's future as the East Asia Summit", where he looks forward to discussing how to strengthen regional institutions, international norms and regional cooperation in pursuit of peace, stability and prosperity.
At the G20, he said: "I also intend to discuss how we can accelerate the creation of next generation infrastructure, which also includes digital infrastructure, and ensure access to clean and affordable energy.
"A key issue for me would be to highlight the importance of international cooperation against black money."
Modi said he is looking forward to his four-city, three-day visit to Australia with great enthusiasm. Modi, who is visiting Brisbane, Sydney, Canberra and Melbourne, is the first Indian prime minister to visit Australia in 28 years, after Rajiv Gandhi in 1986.
He remarked that the bilateral political, strategic and economic relations have been below potential and a "closer strategic partnership with Australia will support India's economic goals; promote our security interests, including maritime security; and, reinforce our efforts to foster a climate of peace and stability in our extended continental and maritime neighbourhood", the statement said.
In Fiji, Modi's visit comes 33 years after the last prime ministerial visit, of Indira Gandhi.
He said: "We also owe them a debt of gratitude for hosting our scientists on the island in support of our Mars Mission."
"We can build stronger economic cooperation and closer partnership in international and multilateral forums with our friends in Pacific Island. I look forward to a future of regular engagement and more robust cooperation with Fiji and other Pacific Island countries," he said.
On the sidelines of the G20, Modi would hold bilateral meetings with German Chancellor Angela Merkel, British Prime Minister David Cameron, French President Francois Hollande, Canada's Stephen Harper and Spanish Prime Minister Mariano Rajoy.
In Australia, Modi would be holding a bilateral meeting with Australian Prime Minister Tony Abbott – their second meeting in two months. In Fiji where the prime minister travels on Nov 19, he would be holding a bilateral meeting with Prime Minister Frank Bainimarama.