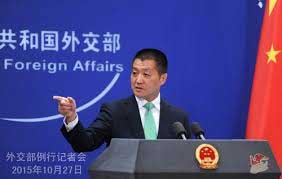 Beijing, March 29 (IANS) China on Thursday said it supports friendly ties between India and Nepal and that New Delhi, Kathmandu and Beijing are important neighbours to each other and can work together for common development.
Beijing also praised Nepal's Prime Minister K.P. Sharma Oli remarks about the Himalayan nation maintaining an independent foreign policy.
"We commend the Nepali government's commitment towards independent foreign policy. We also support Nepal developing friendly and positive relations with its neighbours," Foreign Ministry spokesperson Lu Kang said.
"China, Nepal and India are important neighbours to each other. We hope these three could work together, have some sound interactions and achieve common development," Lu added.
Talking to the envoys from different countries on Tuesday, Oli said that independent foreign policy and balanced conduct of relations would be the hallmarks of Nepal's external engagements.
The present establishment in Nepal is deemed to be pro-Beijing, much to the worry of India, analysts say.
Nepal has approved China's Belt and Road project opposed by India due to the route of its artery which goes through disputed Kashmir.
China's aid to Nepal has risen sharply and it is engaged in building infrastructure.