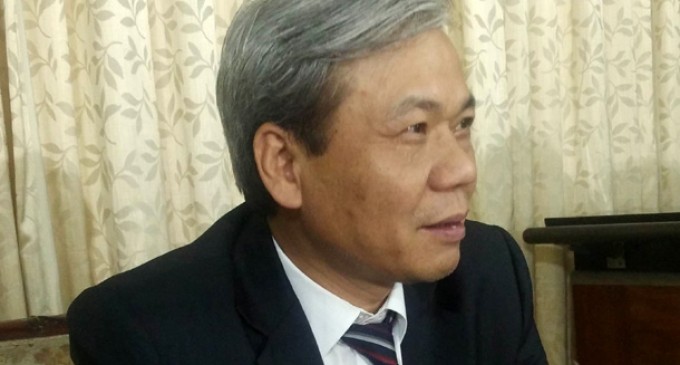 New Delhi, Dec 1 (IANS) Vietnamese Ambassador to India Ton Sinh Thanh on Thursday welcomed the countries outside the South China Sea (SCS) littoral to contribute to the peace and stability of the region.
He was speaking in a discussion organised by India International Centre and Working Group on 'Alternative Strategies on South China Sea: Strategic Discourse, International Law and the Economic Subtext'
Highlighting non-compliance of China on the Permanent Court of Arbitration's ruling, Thanh said: "The ruling is the clear and final about the illegality of the Chinese Nine Dash line which is based on their historic argument but cover over 90 per cent of South China Sea and infringes on the EEZ (exclusive economic zone) of almost all of the coastal countries in the South China Sea."
Accusing China of changing the status quo and militarisation of the region, he said: "Chinese activities remains a threat to peace and security in the region."
"The position of Vietnam on this is clear and consistent. We have sufficient legal position and historical evidence that confirms that sovereignty of our country over these two groups of islands," he said over the Spratly and Paracel groups.
China is locked in disputes over the groups of islands with other countries of the region.
While the other claimants over the Spratly islands are Brunei, Malaysia, the Philippines, Taiwan and Vietnam, the Paracel islands are also claimed by Vietnam and Taiwan.
The most heavily contested are the Spratlys, a strategically-located group of 14 islands, islets and cays and more than 100 reefs.
The South China Sea is a resource-rich strategic waterway through which more than $5 trillion worth of world trade is shipped each year.
Vietnam's position is that parties involved should settle the dispute in SCS through peaceful means in line with international law including UNCLOS (United Nations Convention on the Law of the Sea), Thanh added.
Giving Japanese perspective on the issue, Minister (Political Affairs) in Japanese Embassy Hideki Asari said this is not just an issue of littoral state and Japan has a very strategic view on this issue.
Calling the SCS region the lifeline of Indo-Pacific region, he said that the economic security of India and Japan is heavily dependent on it.
Noted China expertf Srikanth Kondapalli, in his intervention in the discussion, highlighted the Chinese policy of creating a quadrilateral in the region for creating an anti-access naval structure.