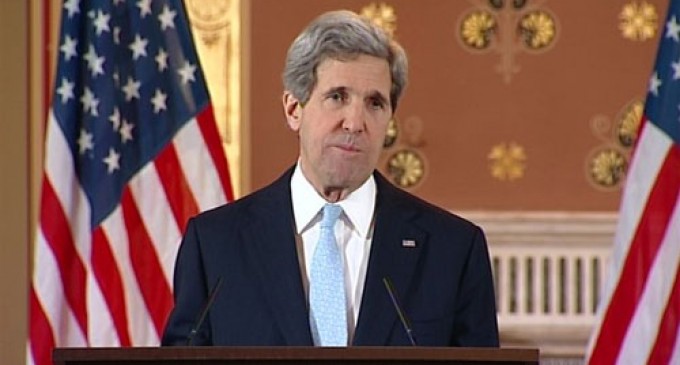 Preparatory Meetings for Modi's Visit to USA in September
By TN Ashok   / Diplomatic Editor
New Delhi, July 30:  US Secretary of State John Kerry arrived in Delhi today at the start of a very significant visit as Washington makes attempts to improve ties with India under its new PM Narendra Modi.
Kerry will participate in a strategic dialogue meeting tomorrow with the Indian External Affairs Minister Ms Sushma Swaraj before addressing a joint press conference later in the day. Areas of discussion outlined are Security issues, Energy, Trade and investment, Science and Technology, Human Resources development and other regional issues, Syed Akbaruddin, spokesman for India's foreign office said today. .
Kerry is scheduled to meet Prime Minister Narendra Modi, the Finance and Defence Minister Arun Jaitley, and the National Security Advisor Ajit Doval. Ahead of the visit, Kerry had said India and the US could cooperate on a wide range of economic and strategic issues during his three day visit.
Cyber security is prominent among issues listed for discussion. There has also been considerable disquiet in political circles and government corridoors in India since the news of snooping on prominent Indian politicians by designated US agencies broke out. Ruffled sentiments on this are likely to be straightened out.
Since Modi has said he wanted his visit to US to be "result oriented", both countries are working on trans-formative initiatives.
Kerry's visit to India is significant and is also seen as a preparatory one for outlining the agenda for discussions between US President Barrack Obama and Indian Prime Minister Narendra when the latter visits Washington soon after his engagement with the 69th session of the UN General Assembly at New York. "Relations between India and the US have been rocky in recent months", diplomatic observers pointed out saying Kerry's visit will be a major exercise in mending this.
Indo US relations had taken a nose dive following a diplomatic row between the two countries after the arrest and brief jailing of an Indian diplomat in New York, Devyani Khobragade. an official in the New York consulate, was arrested in December on an alleged  visa fraud charge being accused of underpaying her housekeeper and concealing information in immigration forms. She later left the US.
The US ambassador to India Nancy Powell quit and returned to India in what diplomatic observers construed as an US administration recall amid speculation cvonnecting  it with the diplomatic row, but the state department in US vehemently denied it.
"The United States and India can and should be indispensable partners for the 21st Century, and that is, I assure you, the way we approach the Modi government," Mr Kerry said in an address to the Centre for American Progress, a think tank, on Monday in Washington.
"India's new government has won a historic mandate to deliver change and reform and, together, we have a singular opportunity to help India to be able to meet that challenge," he added.
Kerry is accompanied by Commerce Secretary Penny Pritzker. A foreign agency quoted her as saying she would talk to India about linking with Southeast Asia's dynamic economies to become "the heart of a more connected, prosperous region".
Modi, who led BJP to a sweeping win in India's recent general election, was denied a US visa for many years following allegations he did not do enough to stop the 2002 anti-Muslim riots in the western state of Gujarat while he was the chief minister there. Modi was never ever charged and he has consistently denied any wrongdoing. He was also cleared by a special panel set up by India's Supreme Court.
But after the BJP's landslide win, President Barack Obama called Modi and invited him to visit Washington and Modi is due to travel to Washington in late September.