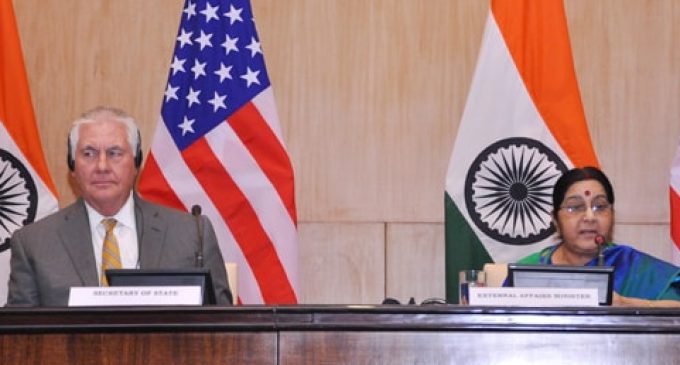 New Delhi, Oct 25 (IANS) Keeping the heat on Pakistan and with an eye on a rapidly-rising China, India and the US on Wednesday said that Islamabad should immediately take steps to finish the terror organisations and terrorist safe havens on its soil and also agreed to work together for security in the Indo-Pacific region.
Visiting US Secretary of State Rex Tillerson and External Affairs Minister Sushma Swaraj, addressing a press briefing, said both countries have agreed that President Donald Trump's new Afghanistan policy would be effective only if Pakistan takes action against terror groups on its soil.
"We discussed the issue of terrorism at length. This is a big threat for the whole world. We also discussed implementing President Trump's new Afghanistan and South Asia policy, so that it can achieve the desired results," Sushma Swaraj said.
"We expressed serious concerns over increasing terror attacks in Afghanistan. It proves even today there are elements that are providing safe havens and support to terrorists. We agreed that we need to together ensure that no country provides safe havens to terrorists," she said.
She said nations supporting terror should be held accountable.
"We also agreed that Pakistan should take steps immediately to finish the safe havens of terror organisations that are there on its soil. We believe President Trump's new policy can be successful only when Pakistan indiscriminately acts against all terror groups," she said.
Tillerson, who flew in from Pakistan where he bluntly told Islamabad that it must increase its efforts to eradicate militants and terrorists operating within the country, said that India "plays an important role" in President Trump's new strategy for South Asia announced in August which redoubles the US' commitment to Afghanistan and peace and stability in the greater South Asian region.
"In the fight against terrorism, the United States will continue to stand shoulder to shoulder with India. Terror safe havens will not be tolerated," he said.
The US' top diplomat said his country will continue to contribute to Indian capabilities to provide security throughout the region.
The US Secretary of State, who was in Afghanistan on Monday on an unannounced visit, also said the US acknowledges with gratitude India's "generous contributions" to the development of Afghanistan, including construction of the Afghan Parliament building.
Sushma Swaraj said that she and Tillerson also discussed the emerging security challenges and issues in the Indo-Pacific region.
"We discussed the importance of freedom of navigation, overflights and unhindered trade under international rules and norms for a sovereign and developed Indo-Pacific region," she stated.
Stating that US supports India's emergence as a leading power, Tillerson said the two countries will cooperate further in the Indo-Pacific region to promote rules-based commerce, in remarks apparently targetted at China over its growing belligerence in the South China Sea.
"We look forward to further cooperation in the broader Indo-Pacific region as we both promote a rules-based approach to commerce and a transparent and sustainable approach to economic development. We are glad to be joined in this effort by our close mutual partner Japan," he said.
His visit comes a week after he made a speech in Washington on the US wanting to "dramatically deepen" cooperation with India.
The issue of North Korea's nuclear and ballistic missile programme also came up and in reply to a question as to whether India was ready to cut off diplomatic ties with Pyongyang, Sushma Swaraj said that trade relations with that East Asian nation are at a minimum, but it is important to continue having an embassy in North Korea to keep communication channels open.
He also said the US was willing to provide New Delhi with advanced technologies for its military modernisation. "In this regard, we are willing and able to provide India advanced technologies for its military modernisation efforts. This includes ambitious offers from the American industry for F-16 and F-18 fighter planes."
Stating that trade between India and the US started in the 18th century, Tillerson said that both countries continue to benefit from the "strong economic bonds".
"The first shipment of American crude oil arrived in India at the beginning of this month marking the the first US oil exports to India in more than four decades," he said.
"Continued oil sales have the potential to boost bilateral trade by up to $2 billion per year. In fact, the US-India trade relationship, which reached $115 billion last year, touches many parts of the lives of both of our citizens."
Stating that US companies and their products were an everyday presence in the lives of Indians, Tillerson said that investments by Indian companies in the US were also growing "including a Mahindra vehicle plant that will open this month in Detroit, the first ever Indian automobile manufacturing plant in the United States".
Sushma Swaraj said that the issue of H1-B visas also came up and both sides "discussed the significant contributions to the US economy made by skilled Indian professionals holding H1-B and L1 visas".
"I have also sought cooperation from Tillerson to address the pending issues related to totalisation and urged him that the US should not do anything that will hurt Indian interests," she said.