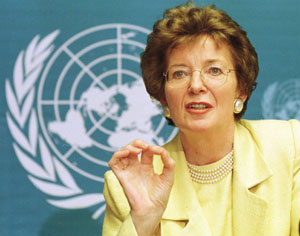 United Nations, July 15 UN Secretary General Ban Ki-moon Monday appointed former Irish president Mary Robinson as his special envoy on climate change.
"Building on her work on climate justice, she will emphasise the urgency from a people centered perspective and work closely with special envoys John Kufuor and Michael Bloomberg in mobilising political will and action before the 2014 climate summit in New York on 23 Sept," Xinhua quoted Ban's spokesperson as saying in a statement.
"The summit will be an important milestone to mobilise political commitment for the conclusion of a global agreement by 2015, as well as to spur enhanced action to reduce greenhouse gas emissions and build climate resilient communities."
Robinson, who was previously special envoy for the Great Lakes region of Africa, will continue to serve as president of the Mary Robinson Foundation-Climate Justice.
"In asking Robinson to take on this mandate, the secretary general commended her for her work as special envoy for the Great Lakes Region of Africa, in particular for her efforts in bringing cohesion and international awareness to the challenges in the Great Lakes region," said the announcement.
Robinson was president of Ireland from 1990-97 and a member of the Irish senate from 1969-89. She also served as the United Nations High Commissioner for Human Rights from 1997 to 2002.
The UN chief has invited world leaders to the climate summit scheduled for Sept 23 at the UN headquarters in New York.
The September summit comes a year before countries aim to conclude a global climate agreement in 2015 through the United Nations Framework Convention on Climate Change. Although the summit is not part of the negotiating process, countries have recognised its value.