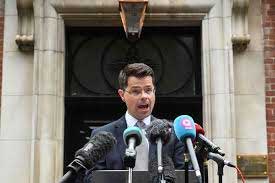 UK Secretary of State James Brokenshire launched the UK-India FutureTech Festival during his visit to India last week.  This high-impact thought-leadership summit will take place in Delhi and across India in December, and will bring together business, policy makers, venture capital, scientists and entrepreneurs across the breadth of India and the UK.
The Minister launched the festival during his 3-day visit to India to take forward the 'Future Mobility' partnership between Maharashtra and the Midlands Engine in the UK.  The Mayor of Birmingham and CEO of the Midlands Engine also accompanied the Secretary of State.
Attracting the best and brightest business leaders, innovators, tech companies and entrepreneurs, the FutureTech Festival will drive trade, investment and partnerships across key sectors, and promote and celebrate the UK and India as major technology innovators and trading partners.
The Festival will host over 100 of the very best UK and Indian tech companies and explore collaboration opportunities in AI, IoT, Big Data, Digital Healthcare, Future Mobility, Fintech, Createch and Cyber Security. During the festival, various satellite missions involving UK companies covering infratech, medtech and life sciences will visit Mumbai, Pune and Bangalore.
Secretary of State Mr Brokenshire said:
"I'm delighted to launch the India-UK Future Tech Fest, announced by our Prime Ministers in April this year.
The festival will be an unmissable showcase of how India-UK collaboration and innovation is rapidly delivering the Tech Partnership. More importantly, it will demonstrate joint thought leadership on the tech that is changing lives and creating prosperity for both countries.   
As the Midlands Engine region demonstrates, the UK has world-beating capabilities – from technology and finance to mobility and healthcare – that make us the natural partner for the India's ambitions."
During his visit, Mr Brokenshire visited Delhi and Pune. In Delhi he met with Finance Minister Arun Jaitley, toured a Vodafone customer care centre and attended a reception hosted by Birmingham airport.  In Pune he met with Bharat Forge – who have an active presence in the Midlands – and the Minister for Heavy Industries and Public Enterprise on the Midlands-Maharashtra Tech Partnership.