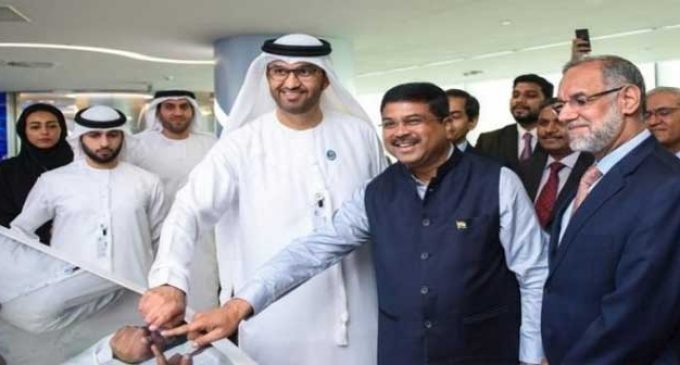 New Delhi, May 22 (IANS) The first consignment of 2 million barrels of crude oil from the UAE for India's strategic petroleum reserve at Karnataka's Mangaluru landed on the west coast, an official statement said on Monday.
This first consignment intended to fill one of the two strategic reserve caverns at Mangaluru under an agreement between Abu Dhabi National Oil Company (ADNOC) and the Indian Strategic Petroleum Reserves Ltd (ISPRL), had been flagged off by Petroleum Minister Dharmendra Pradhan and UAE Minister of State and ADNOC Group CEO Sultan Ahmed Al Jaber at a ceremony in Abu Dhabi last Monday.
"India received the first cargo of UAE crude oil for filling up one of the two Strategic Petroleum Reserve (SPR) caverns built by ISPRL at Mangalore (Mangaluru)," a Petroleum Ministry statement said here.
During Prime Minister Narendra Modi's visit to the UAE in February, ISPRL and ADNOC signed an agreement under which ADNOC will store about 5.86 million barrels of crude oil in India's SPR facility at Mangaluru at its own cost, it said.
"ADNOC's investment by way of crude oil in the Indian facility is the first time that a private foreign entity, is filling up an Indian SPR cavern with crude oil," it said
"Under phase I of the SPR programme, government has built crude oil storage facilities with total capacity of 5.33 million tonnes (around 39 million barrels) at three locations viz. Vishakhapatnam, Mangalore and Padur.
"Vishakhapatnam storage has a capacity of 1.33 million tonnes (around 9.77 million barrels) of crude oil, Mangalore has a capacity of 1.5 million tonnes (around 11 million barrels) and Padur can stock 2.5 million tonnes (18.37 million barrels)."
According to the ministry, ADNOC will bring additional crude oil and fill up the Mangaluru cavern later this year.
The entire Vishakhapatnam facility and one of the two caverns at the Mangaluru facility have been filled with crude oil under government funding, while the second cavern at Mangaluru is now being filled by ADNOC at its own cost under the agreement with ISPRL.
"The agreement stipulates that during an emergency oil shortage situation the Indian government can use the entire available crude oil stored by ADNOC in the Mangalore SPR facility for its use.
"Further, as an incentive for storing crude oil at its own cost, the agreement allows ADNOC to sell part of the crude oil to Indian refineries during normal times," it said.
UAE is the 6th largest crude oil source for India and supplies around 6 per cent of the country's petroleum needs.
In February, state-run explorer Oil and Natural Gas Corp's overseas arm, ONGC Videsh Ltd, and its partners acquired a 10 per cent stake in the Lower Zakum offshore oilfield in Abu Dhabi for $600 million.