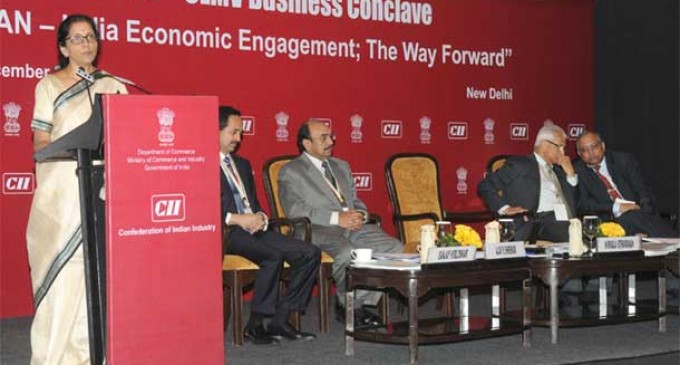 New Delhi, Dec 11 The government Thursday said it expects trade between India and the Association of Southeast Asian Nations (ASEAN) region to reach $100 billion by 2015 and get doubled by 2022.
"Because of that (FTA), trade between ASEAN and India has reached about $80 billion level. We hope by 2015 it will touch $100 billion and get doubled by 2022. So, there is lot of work, there is a lot of scope," Minister of State for Commerce and Industry Nirmala Sitharaman said.
The government signed a free trade agreement (FTA) on goods with ASEAN in 2009.
Sitharaman was speaking at the second edition of India-CLMV (Cambodia, Laos, Myanmar and Vietnam) business conclave being held here.
She pointed-out that skill development, agricultural products, manufacturing, project exports, energy among others were key sectors which hold potential for trade and investment between the two sides.
According to the minister, current trade is concentrated in only a few items and there was tremendous scope to deepen and widen the basket.
"Currently, 70-80 percent of India-CLMV trade is centred around only a few products. I think there is a scope to expand the basket and bring in more commodities and manufactured goods into it," Sitharaman said.
Sitharaman said that India's 'Look East' policy has now transformed into "Act East".