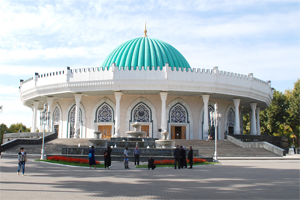 By Neelapu Shanti
The Tashkent peace process conference in Uzbekistan hopes to create new venue for mobilizing the long-standing Afghan peace deal and an effort to lay out a corrective structure for the betterment of Afghanistan. The conference titled "Afghanistan–path to a peaceful future" aimed at showing way for peaceful solution to establish prosperity, development and for the betterment of the Afghan people.  The first day of the conference witnessed the meeting of C+5 countries, Russia, China, Pakistan and Afghanistan. Today's conference was to curve out ways to establish peace on Afghanistan.
Decades of civil war has eroded the fabric of peace and stability in Afghanistan. A credible solution for enduring long term stability is based on 'Afghan-led and Afghan-owned' framework. Afghanistan's forthcoming Presidential elections in 2019 which is the most imperative aspectcan create lot of possible opportunities to achieve everlasting peace and development in the region.  Afghanistan has witnessed bloodshed and violence over the last 40 years, however, time to revive peace on the adversity of the people suffering from instability and war. 'Peace' is the ultimate solution for welcoming prosperity through negotiation, keeping in view the interest of building stable and prosperous country.
The U.S and NATO troops accelerated to 14,000 with the increasing number of attacks in the past one year. On the face growing instability a question rises of Taliban's spiraling influence in paralyzing the country. The inclusion of regional countries collective effort is very important in finding solution to establish peace in Afghanistan. Pakistan's Inter Service Intelligence Agency is backing Taliban in dismantling peace and security in Afghanistan.
While majority are of the view that Pakistan is the main causein the Afghanistan's instability. The growing attacks in Afghanistan have been aided by Pakistan, which provides Taliban with weapons, training terrorists and supply of narcotics to fund terrorism activities. It has also been speculated that the Taliban insurgents have been receiving external support from other countries. The security situation in the region must be analysed keeping in mind the recent developments. The first and the foremost is that Taliban has been continuously expanding its footprint. The majority of Afghanistan's neighbours believe that continued external sponsorship of terrorist's movements is a key root cause of the destabilisation of Afghanistan.
On the face of critical security challenge, Afghanistan urges the international community for cooperation for sovereign equality of states. The peace process is a call on renunciation to curb terrorism and provide Afghan people a life of prosperity with dignity and equal rights. Afghanistan believes that talk with Taliban without any preconditions and without threats of violence constitutes the most viable way to wipe out the on-going plight of the Afghan people.
Role of Regional countries in Afghanistan
For Afghan peace and stabilization regional countries sought to support Afghanistan's peace initiatives. For example the Uzbekistan Government initiating the peace process in Tashkent has renewed Afghanistan-Uzbekistan's relations which was faded out from 1992-2016. Uzbekistan initiated the first peace process during the Taliban regime between Taliban and Mujahideenbefore 2001. There were three meetings held between the two groups but failed to yield any positive outcome. The Tashkent peace process is the continuity of this conference and it is an opportunity for Uzbekistan to reaffirm the relation with Afghanistan. The Afghanistan-Uzbekistan relation has been ignited again with the signing of 37 agreements between the two nations in 2017 and more importantly, Uzbekistan and other neighbouring countries has assured to establish peace in Afghanistan.  Uzbekistan has pushed Afghanistan must take concrete and visible steps against the Taliban leaders by not providing sanctuaries for inciting terrorism and instability in Afghanistan.
Looking at the new development and progress in terms of trade and connectivity it is evident that new regional dynamism is taking to trajectory level. Continued cooperation among regional countries on projects like TAPI, CASA-1000, TUTAP, TAP, Chabahar port, Railway line projects etc. is an effort to restore the traditional historical values among the regional countries like South and Central Asian countries, West and Middle East countries.
Although encompassing variousnationalities and ethnicities, the countries of the region also share in many respects acommon future in which a revived Afghanistan can contribute to their chances of peaceand prosperity.
How to bring peace in Afghanistan
It is believed that continued external sponsorship of terrorist movements is a key root cause of destabilization in Afghanistan. Regional cooperation mechanisms like the Shanghai Cooperation (SCO), The Heart of Asia Istanbul Process, and the South Asian Association for Regional Cooperation (SAARC) are the appropriate mechanisms to fight against terrorism, drug trafficking and other threats. A collective approach of cementing Confidence Building Measures (CBM) will be fruitful in promoting peace and reconciliation, protection of civilians and good governance.
Regional countries that have influence on Taliban must persuade for peace talks. Afghanistan-Pakistan's border dispute is languishing for decades and the only way to address this concern is by adopting a road map between the two nations based on full mutual security cooperation in the cross border operations.
The Durand Line is one of the major concerns between Afghanistan and Pakistan without any recognition for its legitimacy created lot of complexities over the years. Afghanistan and Pakistan share 2500 Kilometers porous imaginary line that has continuously aggravated extremism and violence.
Afghanistan has immense hope and energy to take positive strides to build political system which can be learned from other countries and seek lesson of successful political transition encompassing for the prosperity of their country people. Afghanistan's political parties can come together with a common vision and goal by adopting new ideas under democratic framework and enacting new laws for a progressive democratic system. Political parties play a considerable role in consolidating democracy in a new political order which bring forth development and growth of the nation. Political agenda must notstrategize based on ethnic and religious goals which affect the democracy and nevertheless to enable prosperous Afghanistan, the route to stability is cooperation of the regional countries and the country people.