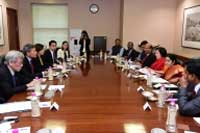 New Delhi, Nov 1  In robust support to New Delhi's Act East Policy that aims at greater engagement with Southeast Asia, Singapore has strongly pitched for greater aviation, maritime and digital connectivity between India and the 10-member ASEAN.
"India will have to engage more and not less with southeast Asia," Singapore Foreign Minister Vivian Balakrishnan said at this year's Singapore Symposium on the topic "India, Singapore and Asean: Shared History, Common Future" organised by industry body CII and the Institute of South Asian Studies of the National University of Singapore here on Tuesday evening.
"There is a need for enhanced maritime and aviation connectivity between India and ASEAN," he added.
Balakrishnan said ASEAN (Association of Southeast Asian Nations) is a global player and is involved in projects in India and Sri Lanka among other places which is why there is a need for more maritime connectivity between the two regions.
"India needs to boldly liberalise its air services," he said, citing figures.
"My favourite statement when I meet Indian bureaucrats on this is the following: interest of state outweighs interest of state airline."
Balakrishnan said that Singapore, with a population of 5.5 million receives more than 16 million tourists every year while India, a country much larger than the city state, only receives half that number.
"If you think about India's size and population, natural resources, and beauty and history and culture, it cannot be that India is content with 8.2 million tourists," he said.
Stating that India is among the five fastest growing aviation markets, he said that a 10 per cent increase in India's air connectivity can increase India's economy by $600 million.
"A more liberalised air services regime will create an entire ecosystem of airports, infrastructure, tourism and business services industry," he stated
Balakrishnan also stressed on digital connectivity, saying it can completely transform the way financial transactions are executed, reducing human interventions and enhancing efficiency.
"We hope that there will be more interaction between Singapore, ASEAN and India vis-a-vis digital connectivity," he said.
He called for linking of Indian and Singaporean electronic payment systems and creation of smart financial centres.
The Singapore Foreign Minister said the city state is the hub for India to do trade with the ASEAN regional bloc.
"In 2016, India was Singapore's 10th largest trading partner, while Singapore is the second largest foreign investor in India," he said.
Balakrishnan said these investments prove that Singapore has always been a strong believer in India's future.