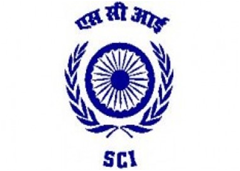 New Delhi, Oct 7 State-run Shipping Corporation of India (SCI) has started a container shipping service to Myanmar that will serve to boost India's Look East Policy, the shipping ministry said here Tuesday.
"The launch of the India-Myanmar container service is a direct offshoot of the government's Look East Policy by using northern Myanmar to reach Mizoram and other northeastern states using Sittwe port in Myanmar," Shipping Secretary Vishwapati Trivedi said at the launch event in Chennai.
Sittwe, at the mouth of the Kaladan river, is situated in the capital of Rakhine state of Myanmar on the Bay of Bengal.
Trivedi said: "SCI has the wherewithal to sustain the service in the long run. We cannot expect to make profits from day one. However, in a year's time, we expect the service will be well received."
The service, a joint effort of the shipping, commerce and external affairs ministries, has been launched as part of a strategic partnership between the two countries whose bilateral trade is currently worth nearly Rs.1,000 crore.
To begin with, the service will be every 15 days with plans to make it weekly in the future. Once the service is successful, private operators can chip in, he said.
The service rotation will be Chennai, Krishnapatnam, Yangoon, Colombo and Chennai.
India has financed to build the deepwater Sittwe port as part of the Kaladan Multi-modal Transit Transport Project — a collaboration between the two countries to develop transport infrastructure in southwestern Myanmar and northeastern India.
Trivedi said as part of the Look East Policy, the government is looking at starting similar services to Thailand and Vietnam and will help the shipping industry in Bangladesh.
Ships from India's eastern seaboard can run regular shuttle services to Chittagong, he added.
"Like the European Union, which has a strong network of ports, the government will take steps to have a similar arrangement with neighbouring countries such as Bangladesh and Myanmar," Trivedi said.
SCI, in a statement Monday, said that the cargo ship MV Kamal made its maiden call at Chennai port Friday with a consignment that included pulses, timber, furniture, cement and chemicals.
The ship will call on Krishnapatnam, Yangon and Colombo before returning to Chennai as part of the fortnightly service.