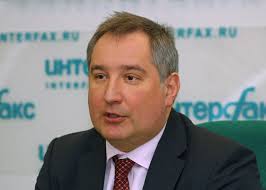 New Delhi, June 17 Russia will establish its first high-level contact with the new Indian government when Russian Deputy Prime Minister Dmitry O. Rogozin meets External Affairs Minister Sushma Swaraj Wednesday.
Rogozin's meeting comes days after the US and China established their first high-level contact with the Bharatiya Janata Party-led government of Prime Minister Narendra Modi.
Russian President Vladimir Putin had called up Prime Minister Modi to congratulate him after his government came to power.
The meeting between Rogozin and Sushma Swaraj will be their first interaction.
India and Russia have a special and privileged strategic partnership and Rogozin's visit is in the context of high-level bilateral contacts and intense dialogue on priority areas of bilateral cooperation, official sources said Tuesday.
Rogozin will be in India June 18-19. During his meeting with Sushma Swaraj, the two leaders are expected to review the overall bilateral trade and economic cooperation, especially in the energy sector.
They would also initiate preparations for the annual summit between Prime Minister Modi and President Putin scheduled during the course of the year.
Rogozin is also scheduled to meet Defence Minister Arun Jaitley and National Security Advisor Ajit Doval and is expected to call on Prime Minister Modi, sources said.
During his talks with the Indian leaders, defence, trade, nuclear energy and space cooperation are likely to be on the table.
Rogozin co-chairs the India-Russia Inter-governmental Commission on Trade, Economic, Scientific, Technological and Cultural Cooperation. He is a close confidant of President Putin.
The Indian government had last week intervened to help injured Russian tourists in Uttarakhand. A group of 13 Russians were injured when their vehicle met with an accident. Two Russians were killed, and the government had helped in flying the gravely injured people to New Delhi for treatment.