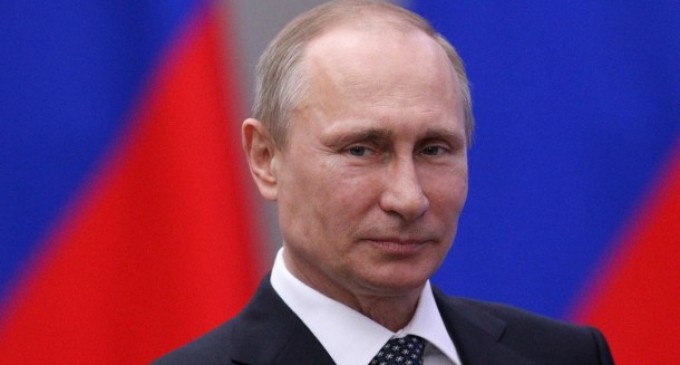 Moscow, March 19 (IANS) Russian voters gave Vladimir Putin a resounding approval for a fourth term as President, with figures from the Central Election Commission on Monday showing him winning with 76.68 per cent of the vote, his highest score ever, despite opposition activists highlighting a number of cases of vote rigging.
Almost 55.5 million voters supported his candidacy in the election that took place on Sunday paving the way for Putin, 65, to lead the country until 2024 after which he is constitutionally obliged to stand down, Sputnik news agency reported.
The turnout at the election was 67.47 per cent, the CEC reported. The main opposition leader, Alexei Navalny, was barred from the race because of an embezzlement conviction that he said was manufactured by the Kremlin.
Addressing a rally in Moscow, Putin said the voters had "recognised the achievements of the last few years". Speaking to reporters after the results were announced, he laughed off a question about running again in another six years. "What you are saying is a bit funny. Do you think that I will stay here until I'm 100 years old? No!" he said.
World leaders congratulated Putin on his re-election but no Western leaders responded to his victory due to deepening tensions with Moscow in recent weeks after the poisoning of an ex-spy in Britain, which the UK government blamed on Russia, the BBC reported.
Chinese President Xi Jinping said his country's partnership with Russia was at its "best level in history".
The leaders of Kazakhstan, Belarus, Venezuela, Bolivia and Cuba were among those who also sent their best wishes.
However, German Foreign Minister Heiko Maas questioned the fairness of the election and said Russia would remain a "difficult partner", but added: "We want to remain in dialogue."
The scale of victory — which had been widely predicted — appeared to be a marked increase in his share of the vote from 2012, when he won 64 per cent.
The previous election record was set by Dmitry Medvedev in 2008, who won 52.5 million votes with just under 70 per cent turnout.
Communist Party candidate Pavel Grudinin was in the second place with 11.87 per cent of the vote, followed by the head of the Liberal Democratic Party of Russia Vladimir Zhirinovsky with 5.73 per cent and Civil Initiative party candidate Ksenia Sobchak with 1.64 per cent, according to the CEC.
Putin's campaign team said it was an "incredible victory". "The percentage that we have just seen speaks for itself. It's a mandate which Putin needs for future decisions, and he has a lot of them to make," a spokesman told Russia's Interfax.
The opposition pointed to video evidence of voter irregularities at polling stations across Russia. The irregularities included ballot stuffing and attacks on some vote observers, as well as reports of ballots being cast by "dead souls".
Webcams at polling stations were obstructed by balloons and other obstacles, the BBC reported.
In his first reaction to the preliminary results, opposition leader Navalny indicated that he had been unable to contain his anger. "Now is the season of Lent. I took it upon myself never to get angry and not to raise my voice. Oh well, I'll try again next year," he tweeted.
Sunday's vote was also the first in Crimea since Russia seized the region from Ukraine. However, Russians living in Ukraine were not allowed to participate.