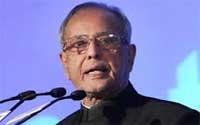 The President of India, Shri Pranab Mukherjee has extended his greetings and felicitations to the Government and people of the Argentine Republic on the eve of their National Day (May 25, 2017).
In a message to His Excellency Ing. Mauricio Macri, the President of the Argentine Republic, the President has said, "On behalf of the Government, the people of India and on my own behalf, I extend warm greetings and felicitations to you and to the Government and people of Argentina on the occasion of your National Day.
The friendship between our two countries has traditionally been warm and fruitful. Our recent high-level engagement has contributed to the further diversification of our cooperation. We both seek to explore all opportunities and our mutual complementarities to enhance our economic ties.
I avail this opportunity to extend to Your Excellency, my best wishes for your happiness and well-being as well as for the progress and prosperity of the people of Argentina".