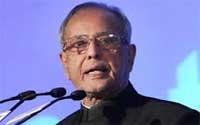 The President of India, Shri Pranab Mukherjee has extended his greetings and felicitations to the Government  and people of the Democratic Socialist Republic of Sri Lanka on the eve of the 69th  Anniversary of theirIndependence (February 4, 2017).
In a message to His Excellency Mr. Maithripala Sirisena, the President of the Democratic Socialist Republic of Sri Lanka, the President has said, "On behalf of the Government, the people of India and on my own behalf, it gives me immense pleasure to extend warm greetings and felicitations to Your Excellency and to the people of the Democratic Socialist Republic of Sri Lanka on the occasion of the 69th Anniversary of your Independence.
India and Sri Lanka share a unique relationship.  The close ties of friendship between our countries have been built over centuries.  The expanding scope of our wide-ranging relationship continues to be the strong foundation of our contemporary discourse.  The renewed dynamism in the Sri Lankan polity under your leadership will help to forge a stable path for the future of Sri Lanka and further strengthen our partnership to the mutual benefit of our two peoples.
On this occasion, I would like to assure you that as a close friend and neighbour, India will continue to extend her support to the Government and people of Sri Lanka as you pursue your national goals.
Please accept, Excellency, my best wishes for your good health and personal well being as well as for progress, prosperity and happiness of the people of Sri Lanka".