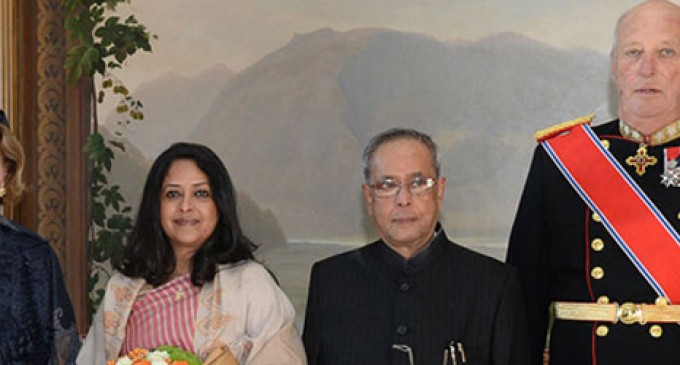 Oslo, Oct 13 Visiting Indian President Pranab Mukherjee, on a state visit to Norway, met Norway's King Harald V Monday at an official reception at the Palace Plaza here and later also visited the Norwegian Parliament. This is the first ever visit by an Indian head of state to the Nordic nation that third largest exporter of hydrocarbons and has huge reserves of oil and gas.
Norway also enjoys one of the highest per capita incomes in the world.
Mukherjee was accorded a ceremonial reception at the Royal Palace during which he inspected a guard of honour and laid a wreath at the national monument.
The entire city was festooned with flags of India and Norway and floral bouquets in the colours of India's national flag in honour of the visiting dignitary.
President Mukherjee later visited the Norwegian Parliament, called Storting, held discussions with its President Olemic Thommessen and was shown around the City Hall by the Oslo Mayor.
A number of agreements are set to be inked during his visit, including in the fields of education, trade and renewable energy among others.
Around 45 businesspersons from the Confederation of Indian Industry and other industrial chambers are accompanying the president on his two-nation tour to Norway and Finland, a visit that is intended to attract investments from these countries into India.
Mukherjee will be guest of honour at a gala dinner at the Royal Palace hosted by the King Harald V and Queen Sonja.
Mukherjee is also to visit Oslo's Fram museum.
On Tuesday, he will meet Prime Minister Erna Solberg and visit the Munch Museum, as well as take part in a meeting at Naringslivets Hus or The House of Business to discuss potential cooperation between India and Norway in the fields of business, research and education.
The president, accompanied by his daughter Sharmistha, arrived Sunday evening at the Gardermoen Airbase at Oslo and was received by Mayor Harald Espelund of Ullensaker.
Mukherjee is accompanied by union Minister of State for Heavy Industries Pon Radhakrishnan, Secretary (West) Navtej Sarna and senior educationists and other officials.
Norway has given unconditional support for India's candidature in the Arctic Council as an observer. The Arctic Council, an intergovernmental group of eight Arctic states, comprises Canada, Denmark, Finland, Iceland, Norway, Russia, Sweden and the US.
Last year it agreed to grant observer status to India and China, which is keen to tap the vast energy sources in the Arctic region.
According to official estimates, the Arctic holds 13 percent of the world's undiscovered oil reserves and 30 percent of undiscovered gas deposits.
India also has a research station, Himadri, in Spitsbergen at Svalbard, Norway.
Mukherjee is to speak via video link with Indian scientists posted at the Himadri station, which is India's permanent research base in the Arctic.
Both sides will be looking to increase cooperation in the fields of IT, new and renewable energy, fishing and deep sea fishing.
Norway has expertise in krill fishing, and is also a leader in ship building and ports. It also has the largest sovereign wealth fund, called the Government Pension Fund, of $850 billion, of which it has invested $4 billion in India so far.