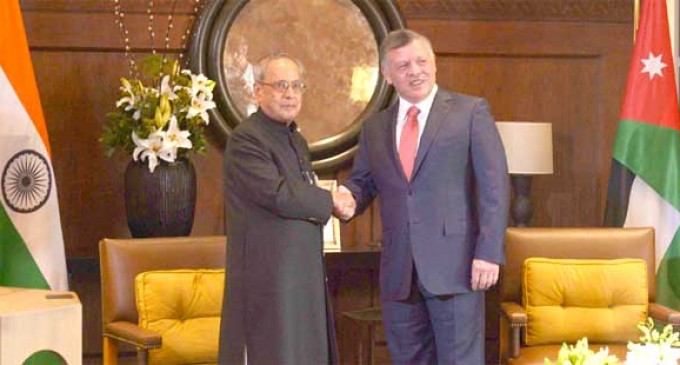 Amman, Oct 10 President Pranab Mukherjee arrived here on Saturday in what he termed a landmark visit to push ties with Jordan. It is the first visit by an Indian head of state to this Hashemite kingdom.
The president immediately got down to business upon landing here on board a special Air India flight, following which he was accorded a ceremonial welcome, a guard of honour and 21-gun salute in the forecourt of the presidential office.
He then held talks with his host King Abdullah II ibn Al Hussein and then jointly inaugurated a $860-million Indo-Jordanian fertiliser plant for making raw materials, notably for sulphuric acid- and phosphoric acid-based nutrients.
Ahead of the touchdown, the president said he looked forward to the "historic visit".
"Both our countries share similar views on regional and international issues and both of us support the peace process in the Middle East, including Syria."
He said the two countries abhor extremism and terrorism in all forms, and believed in religious harmony.
The focus on trade and investment was also evident. The president said both countries will work towards increasing bilateral trade to $5 billion per annum, from around $2 billion now.
Officials said the project inaugurated by President Mukherjee will go a long way in achieving that, since the plan is for India to import 300 million tonnes of phosphoric acid from this plant annually.
Mukherjee said he also held Jordan as a gateway to this part of the world, thanks to its location and a very conducive investment atmosphere.
India and Jordan signed the first bilateral agreement for cooperation in 1947. It was formalised in 1950 when full diplomatic ties were established.
While King Abdullah and Queen Rania visited India in October 2012, at the head of state level, the last visit from the Indian side — prior to President Mukherjee's visit — was by prime minister Rajiv Gandhi nearly 30 years ago.
Mukherjee is on a six-day, three-nation visit which will take him next to Palestine and Israel.