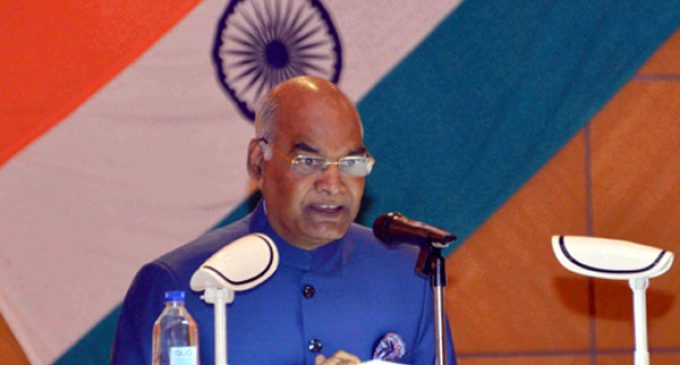 New Delhi, March 9 (IANS) In tune with India's increasing focus on the Indian Ocean region, President Ram Nath Kovind will embark on a five-day visit to the island nations of Mauritius and Madagascar from March 11, it was announced on Friday.
While he will visit Mauritius from March 11 to 14, he will be in Madagascar on March 14-15.
Briefing the media here, Sanjay Panda, Joint Secretary (Indian Ocean Region) in the External Affairs Ministry, said Kovind will attend the celebrations marking the 50th anniversary of independence of Mauritius.
He said the diaspora linkage is a very important part of bilateral ties with Mauritius which is home to a large number of ethnic Indians — mostly descendants of indentured labour taken from India to work in the sugarcane plantations there.
Panda said there has been qualitative improvement of India's ties with Mauritius in recent times after Prime Minister Narendra Modi's visit to that country in 2015 set the ball rolling.
In the last two years, India and Mauritius have signed a double taxation avoidance agreement and New Delhi $353-million economic package.
Panda said that four memorandums of understanding (MoUs) are expected to be signed between the two countries during Kovind's visit.
The President will meet the leadership of the island nation and also interact with the Indian diaspora.
He will inaugurate the World Hindi Secretariat that has built with India's assistance.
The visit to Madagascar will be the first ever by an India VVIP since the establishment of diplomatic ties in 1954.
Madagascar is the fourth largest island in the world and is nearly the size of France.
According to Neena Malhotra, Joint Secretary (East and South Africa) in the External Affairs Ministry, the island nation off the coast of east Africa is rich in natural resources and is the world's largest producer of sapphires.
She said that Kovind will hold talks with his Malagasy counterpart Hery Rajaonarimampianina.
Malhotra said that India is keen to expand naval and maritime cooperation with Madagascar and India has expanded lines of credit in the past.
There is 15,000 to 20,000-strong Indian community in that country and Kovind will meet their representatives.
This is the second foreign visit Kovind is undertaking after assuming office last year. In October 2017, he visited Djibouti and Ethiopia.
Ashok Malik, Press Secretary to the President, said it was no coincidence that both times Kovind has gone to Africa and reflected the importance India was attaching to the region.
The President will be accompanied by Minister of State for Health and Family Welfare Ashwini Choubey and four Members of Parliament during the visit.