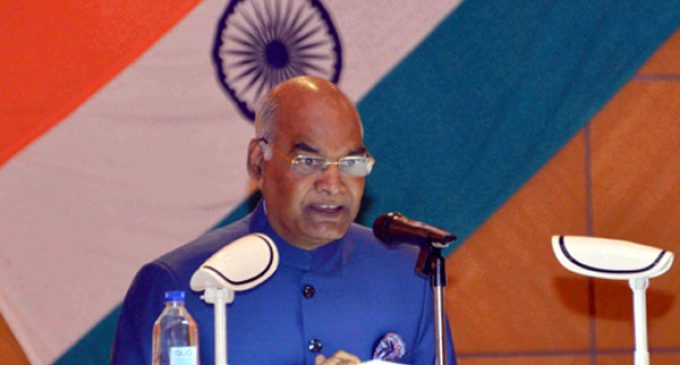 New Delhi, June 12 (IANS) President Ram Nath Kovind will embark on an eight-day three-nation tour from June 16 that will see him going to Greece, Suriname and Cuba, it was announced on Tuesday.
Briefing the media here, Subrata Bhattacharjee (Central Europe) in the External Affairs Ministry, said that Kovind will reach Greece on June 16 at the invitation of Greek President Prokopis Pavlopoulus.
He will hold a meeting with Pavlopoulus as well as with Greek Prime Minister Alexis Tsipras and Leader of the Opposition Kyriakos Mitsotakis.
Kovind will also meet Indian and Greek CEOs and deliver a speech on "India and Europe in a Changing World" at the Hellenic Foundation for Europe and Foreign Policy, a leading Greek think tank.
According to Bhattacharjee, India-Greece bilateral trade stands at $530 million and some Indian companies are also present in the infrastructure, pharmaceutical and steel sectors in that central European nation.
With Greece being home to a 12,000-strong Indian diaspora, Kovind will also interact with members of the community.
From Greece, Kovind will leave for Suriname on June 19 in what will be the first ever visit by an Indian head of state to that South American nation.
Partha Satpathy, Joint Secretary (Latin America and Caribbean), said that Kovind's visits to Suriname and Cuba are a reflection of New Delhi giving more importance from this year to ties with Latin America.
Last month, Vice President M. Venkaiah Naidu visited Guatemala, Panama and Peru.
While in Suriname at the invitation of President Desi Bouterse, following official talks, some agreements are expected to be signed, including on health and information technology. India will offer some lines of credit as part of development assistance.
With 37 per cent of Suriname's population being people of Indian origin, Kovind will also lay the foundation of a Vivekananda Cultural Centre.
Most of these Indian-origin people are descendants of indentured labour brought to work in sugarcane plantations, the first batch of whom arrived in 1873.
On June 21, Kovind will participate in activities as part of the International Yoga Day.
From Suriname, he and his delegation will leave for Cuba which again will be the first ever presidential visit from India to that country.
Satpathy said that both India and Cuba are important partners in the global South-South cooperation.
He said that Kovind will interact with Cuba's new leadership under President Miguel Diaz-Canel.
Four agreements are expected to be signed, including in the areas of biotechnology and traditional and alternative systems of medicine.
Kovind will conclude his visit on April 23.
According to Press Secretary to the President Ashok Malik, this will be Kovind's fourth and last foreign visit in the first year of his presidency. In all, he will have visited 10 countries.
During the visit, the President will be accompanied by Minister of State for Steel Vishnu Deo Sai, two members of the Lok Sabha, Dinesh Kashyap and Nityanand Rai, and senior officials.