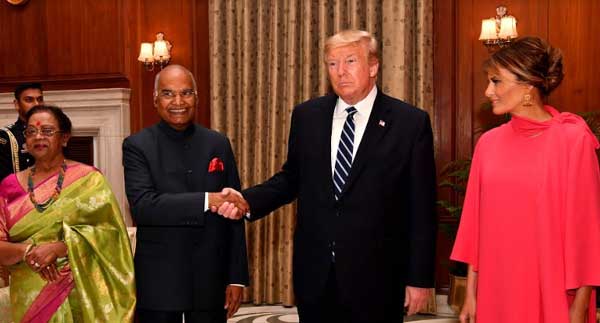 The President of India, Shri Ram Nath Kovind, received the Honorable Donald J. Trump, the President of the United States of America and Mrs Melania Trump, at Rashtrapati Bhavan today (February 25, 2020). He also hosted a banquet in their honour.
Welcoming President Trump on his first ever visit to India, the President said that the attention and interest that this visit has generated is truly remarkable. It shows the goodwill and respect that the people of India have for the U.S. and for President Trump.
The President said that President Trump's participation in the 'Howdy, Modi!' event had already won the hearts of millions of Indians. The 'Namaste Trump' has brought him even closer to our people. It is the first time that an event of such scale was held in India to welcome a foreign leader. The President described President Trump as a valued friend of India. He said that we appreciate the progress in India-U.S. relations in his term in office.
The President said that India views the U.S. as a long-term friend and a natural partner. Our strong democratic credentials bind us together. Continued economic prosperity and geo-political leadership of the U.S. is in India's interest. Similarly, India's growing political, economic and military footprint will be beneficial for U.S. interests in the region as well as globally.
The President said that we are currently undergoing a transition from an agriculture-based economy to a more manufacturing and services-oriented economy. In this transition, we need the support and understanding of our friends and partners. We feel that the U.S. being our leading economic partner is uniquely placed to support our growth and development as well as benefit from its expansion.
Subsequently, in his banquet speech, President Kovind said that as the world's largest democracies, we are deeply connected with each other through our people and their aspirations. The bedrock of Indian and American society has been hardworking middleclass families and that's what makes us understand each other instinctively. Over 4 million people of Indian origin have made America their home. They are a living bridge between the American Dream and our vision of New India. Our bilateral canvas has many folds, but none more impressive than the one painted by the growing Indian student community in the U.S.