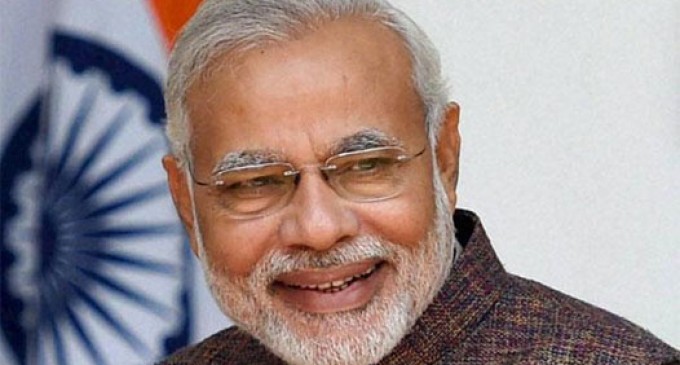 Modi's foreign policy is really pushing if not aggressive
By TN Ashok  / Diplomatic Editor
New Delhi, Sept 19 : Prime Minister Narendra Modi's pushing foreign policy initiatives is accentuating an already evolved " Look East" policy of the foreign office paying rich dividends with his successful visit to Japan and Chinese President Xi Jinping's equally successful three day visit to India.
Japan and China may not see eye to eye on the economic front as they are fierce competitors on the international arena , but Modi's successful foreign policy initiative in wooing both countries to invest in India and at the same time balancing the act between the two countries at the political level has been a master piece.
China has pledged to invest US $ 20 billion in India in developmental projects upping the scale if not the ante over Japan which has also pledged to invest over US $ 35 billion over the next five years in hi fi projects as developing smart cities as the Modi government goes into full throttle pushing economic reforms to the fullest assuring foreign investors to invest in India in a big way to make the "Make in India" campaign a success story.
The 100 days of Modi government has moved at a breath taking speed putting in place several structural reforms in the policies quietly without much fanfare or publicity so much so the economy moved from a sluggish 5% to a better looking 5.7% GDP growth in the first quarter of the current fiscal year April to March 2014-15, that is April to June quarter.
While political detractors may feel a lot is still left to be done as food inflation is still not under control as price of groceries and veggies rule high, the RBI has held its monetary and fiscal policy under a tight leash and has effected no change in the lending rates or the short term repo rates, at an overall level, the situation is under check and promises to become better closer to the festival season.
An immediate gain of US $ 11 billion from Japan and China in the current fiscal will help to push the foreign exchange position a lot healthier state after a comparative lull in the last days of the UPA regime when foreign investors declined to make further investments or were pulling out their portfolios while putting a stop to any further FDI as policy paralysis halted decision making as the country's politic was rocked by uncertainties created by political scams.
India is to receive US $ 55 billion over the next five years from just China and Japan, two of the world's most robust economies, which fuel the world economy with their export, dominated thrust. It's a clear signal for the regular investors such as USA, UK, France, Germany and others to up their investments in India.
More investments burgeon the foreign exchange reserves and act as a hedge against sluggish world economic trends and create the cushion of comfort for paying for India's oil imports, one single dominating factor in depleting foreign exchange reserves and pushing up the current account deficit.
Japanese and Chinese investments along the industrial corridor's of Mumbai Delhi and other cities will also not create the models of smart cities to sprout all over the country and Modi's digital India would wire the country to enable to access information faster and do business at a much faster rate that before.
While Chiense President's visit to India has been a successful one for India at an economic level, it has also helped to cement ties at a political level. Consider the statements made by China's President Xi Jinging: "China is not a warlike nation", President Xi Jinping said  Thursday, even as diplomatic stand off was witnessed on a barren Himalayan plateau between soldiers from the world's two most populous nations.
Foreign media houses perceive Chinese President Xi Jingpings in India as being robust after his meeting with Indian premier Narendra Modi about the dispute in territory claimed by both Asian giants. It  overshadowed Xi's pledge of $30 billion investments in South Asia over five years, including $20 billion in India.
"A warlike state, however big it may be, will eventually perish," Xi said in a speech, adding that China believed its neighbours were key to its wellbeing.He said China was committed to the path of peaceful development, addressing concerns in Asia about Beijing's increasingly assertive territorial claims including in the South China Sea, a vital global trade route, foreign media reports said.
But the mood was stern when Modi and Xi emerged from a long meeting to address reporters soon after officials confirmed that soldiers had pulled back from their positions in a western Himalayan region claimed by India and China. "I raised our serious concern over repeated incidents along the border," said Modi, with Xi sitting to his right.
"There should be peace in our relations and in the borders. If this happens, we can realise (the) true potential of our relations," added Modi.
Modi raised hopes for a new push to resolve India's territorial differences with China. Modi called for an early border settlement with China. The two sides have held 17 rounds of border talks since the early 1990s without making significant breakthroughs. Modi is to appoint a special envoy to resume the talks.
In his comments, Xi played down the tensions and agreed with Modi that they should work to settle the border question, using a language reminiscent of leaders from China in the past.
"Sometimes there might be certain incidents, but the two sides are fully capable of acting promptly to effectively manage the situation," he said.
Srikanth Kondapalli, a China watcher with Delhi's Jawaharlal Nehru University, said Modi's tough words were aimed at a domestic audience ahead of regional elections, including in Ladakh, a remote corner of Indian-administered Kashmir.
"As a nationalist, he stood his ground, but the fact of the matter is that he cannot control the other side," he said, saying fast progress on a permanent border fix was unlikely.
"Both sides have given a diplomatic but stiff response, both sides have said (the border) should be resolved early but there is no deadline."
Notwithstanding the border tension, India and China were able to agree on investments tha seek to take their commercial relationship to a much higher level, with China pledging US $20 billion over the next five years for industrial parks and infrastructure including railway technology. Compare this with just US $ 400 million in Chinese investment in India over the last 14 years.
Another major breakthrough was that the two leaders agreed to begin talks on cooperating in the nuclear power industry. Xi said China would support India becoming a full member of the Shanghai Cooperation Organisation, a regional security body that includes China and Russia. He also backed its aspiration to play a greater role at the United Nations, including on the Security Council.
Modi is reportedly keen on Chinese investment in India to help reverse the annual trade balance of US $ 65 billion tilted heavily in China's favour. Xi promised more access for India's pharmaceutical, farming and fuel products to China. Xi also set a target to raise annual bilateral trade with South Asia to US $150 billion in the next five years.