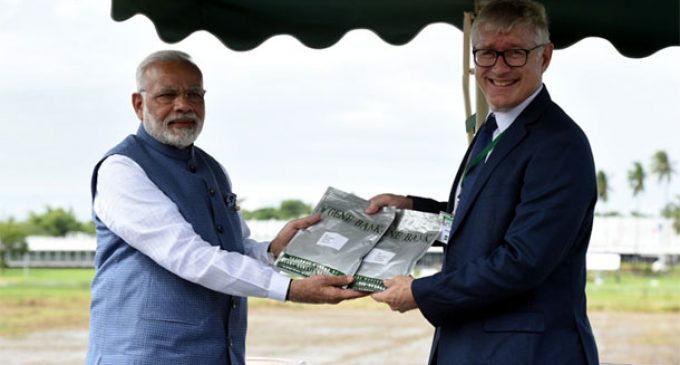 Manila, Nov 13 (IANS) Prime Minister Narendra Modi on Monday visited the International Rice Research Institute (IRRI), a premier research organisation dedicated to reducing poverty and hunger through rice science at Los Banos in the Philippines.
The institute works on improving the health and welfare of rice farmers and consumers and protecting the rice growing environment for future generations.
"My visit to International Rice Research Institute (IRRI) was a great learning experience," Modi tweeted.
"Saw the exceptional work IRRI is doing towards mitigating poverty and hunger by improving rice cultivation. Their work benefits many farmers and consumers, particularly in Asia and Africa."
The Prime Minister said that he interacted with Indian scientists, students and researchers working at IRRI.
"India's ICAR (Indian Council for Agricultural Research) and IRRI have been cooperating for four decades," he said.
"India is also involved in helping IRRI in strategic planning, helping decide key goals and working to overcome hunger as well as poverty."
Modi reviewed a photo exhibit showcasing flood tolerant, drought tolerant and salinity tolerant rice varieties and IRRI's work with women farming cooperatives.
He also undertook a symbolic ground breaking for a new plot for submergence tolerant rice varieties and unveiled a plaque to mark the inauguration of the Narendra Modi Resilient Rice Field Laboratory.
IRRI will set up a South Asia Regional Centre at Varanasi, which will be the first such centre outside its headquarters in the Philippines.
"The Varanasi centre would help increase farmers' income by enhancing and supporting rice productivity, reducing cost of production, value addition, diversification and enhancement of farmers' skills," Modi said in a statement in New Delhi on Saturday.
Modi arrived here on Sunday on a three-day visit to the Philippines during the course of which he will attend the 15th India-Association of Southeast Asian Nations (Asean) Summit and the 12th East Asia Summit.
Later on Monday, he is scheduled to hold bilateral meetings with US President Donald Trump and Philippines President Rodrigo Duterte.
More such meetings with visiting leaders are being arranged on the sidelines of the summits.
Earlier on Monday, Modi attended the opening ceremony of the 31st Asean Summit.
Source : Sarkaritel.com