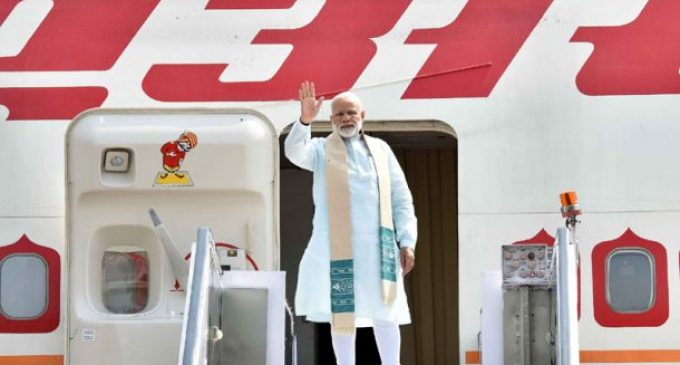 New Delhi, May 11 (IANS) Prime Minister Narendra Modi on Thursday left on a two-day visit to Sri Lanka where he will be the chief guest at the International Vesak Day celebrations.
"PM @narendramodi emplanes for Sri Lanka, where he will join a wide range of programmes including the international Vesak Day celebrations," the Prime Minister's Office tweeted.
Modi will be the chief guest at the UN-recognised 14th International Vesak Day meant to mark the birth, enlightenment and passing away of Lord Buddha.
The visit follows the invitation of Sri Lankan President Maithripala Sirisena. It is Modi's second trip to Sri Lanka as Prime Minister after March 2015.
This is the first time that Sri Lanka will be hosting the International Vesak Day. The theme of the event is Buddhist teachings for social justice and sustainable world peace.
As part of the celebrations, Modi will participate in a lamp lighting ceremony at the Gangaramaya temple in Colombo, one of the most important temples in Sri Lanka.
Modi will also pray at the Temple of the Sacred Tooth Relic at Kandy in central Sri Lanka. The golden-roofed Kandy temple houses Sri Lanka's most important Buddhist relic — a tooth of Lord Buddha.
In Pallekelle, Modi will unveil a plaque commemorating the foundation laying of the Faculty of Kandyan Dance at the Sri Lankan International Buddhist Academy that will be constructed with India's grant assistance.
Modi will also open an India-funded 150-bed multi-speciality hospital in the central hill district which is home to Tamil tea plantation workers of Indian origin.
Although no bilateral talks are scheduled, the visit is expected to give renewed momentum in India-Sri Lanka ties.
Last month, Sri Lankan Pri