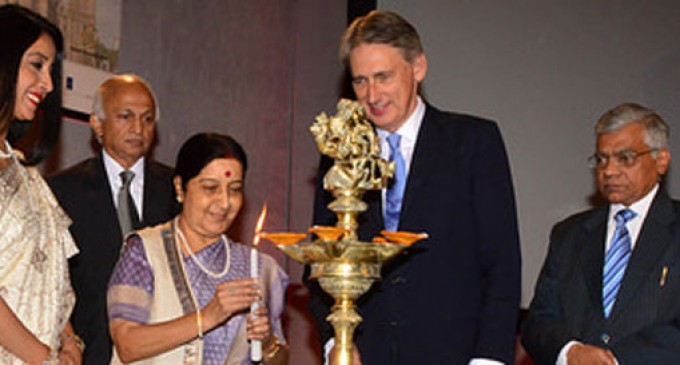 London, Oct 18  Minister of Overseas Indian Affairs Sushma Swaraj Friday urged the Indian diaspora in Britain to invest in India as the country offers tremendous opportunities and participate in India's growth story.
"As we rejoice in the success of the Indian diaspora, we also invite you to actively participate in India's growth story," Sushma Swaraj, who is also India's minister of external affairs, said while inaugurating a two-day Regional Pravasi Bharatiya Divas, a conclave of the Indian diaspora.
"There are tremendous opportunities today for you to join us, especially in the fields of manufacturing, science and technology, research and innovation, knowledge economy and youth development," she said
She mentioned about the 'Clean Ganga' campaign, metro rail and smart cities projects as areas where overseas Indians could participate.
The Person of Indian Origin (PIO) card was now valid for a lifetime and not just 15 years for visits to India, she said, reiterating Prime Minister Narendra Modi's assurance on the subject during his visit to New York last month.
Furthermore, PIOs will not have to report to police even if their stay in India exceeds 180 days, as was the previous requirement, the minister said.
"The government is working on a new scheme that will merge the PIO and OCI (Overseas citizen of India) schemes," Sushma Swaraj said.
Appreciating the achievements of the 1.5 million-strong people of Indian orgin in Britain, she said: "We are proud of the great accomplishments of the Indian community in the UK and other European countries in all areas of human endeavour and the great reputation they have earned as industrious, law abiding and peace loving citizens, while retaining their Indian roots."
According to the minister, the second and third generation British Indians have "clearly made an impression in British life".
"They have made a mark in almost every profession from business, finance, politics and medicine to sports and life sciences," she said.
British Foreign Secretary Philip Hammond, addressing the same event, indicated that in his bilateral talks with Sushma Swaraj later in the day, he would "explore strengthening the relationship (between the two countries) and work closely together" to meeting the challenge posed by "ISIS (now known as Islamic State or IS) and their ideology" and "advancing both our nations' security and prosperity".
The attendance in Friday's was below expectations. A 800 capacity hall was at best three-quarters full. The organisers had claimed more than 1,000 people would participate.