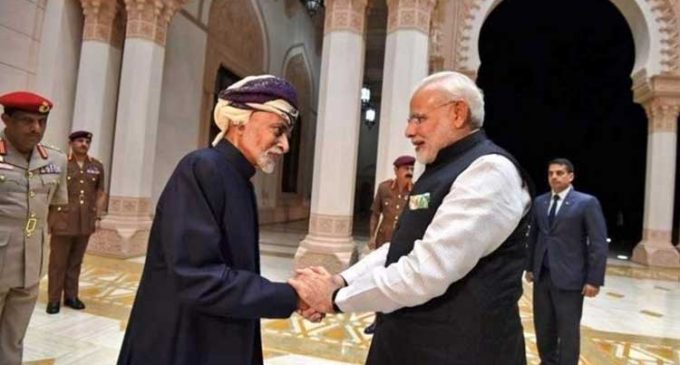 Muscat, Feb 12 (IANS) Sultan of Oman Qaboos Bin Said Al Said voiced his appreciation for the appreciation of the expatriation Indian for their contributions to his country's development during a meeting with visiting Indian Prime Minister Narendra Modi here.
"Sultan Qaboos appreciated the contribution of honest and hard working Indian nationals in the development of Oman," Indian External Affairs Ministry spokesperson Raveesh Kumar tweeted following the meeting between the two leaders late on Sunday evening.
Oman is home to over 800,000 expatriate Indians and Modi, in a community gathering earlier in the day, praised their role in the Gulf country's development.
He said that Indian and Omani authorities are constantly in touch with each other for addressing grievances of Indians in Oman.
He also praised the Omani royal family for maintaining a close relationship with India.
Following the meeting between Modi and Sultan Qaboos, eight agreements were signed between India and Oman.
These include three memorandums of understanding (MoUs) on cooperation in the fields of health, outer space, diplomacy and defence studies and analyses.
The India-Oman defence cooperation has emerged as a key pillar of the strategic partnership between the two countries.
Oman is a strategic partner of India in the Gulf and an important interlocutor at the Gulf Cooperation Council (GCC), Arab League and Indian Ocean Rim Association (IORA) fora.
An annexure to an MoU on defence cooperation was also signed apart from an agreement on cooperation in legal and judicial cooperation in civil and cooperation matters.
Modi arrived here on Sunday evening on the third and final leg of his visit to West Asia and the Gulf that also took him to Palestine and the United Arab Emirates.