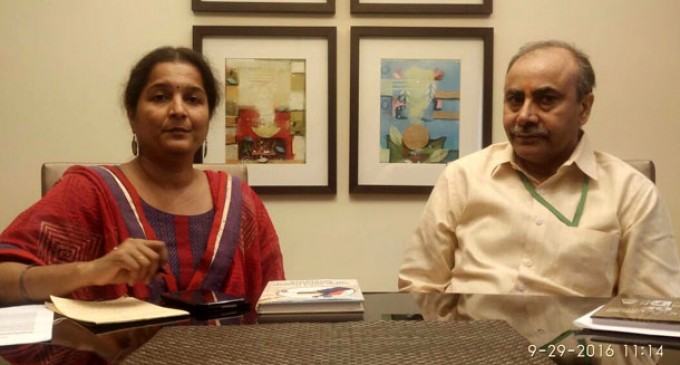 North East India forms a major geographical and strategic part of India's 'Act East Policy'. North East shares border with five major neighbouring countries and hence acts as a link for other states of India and these countries. Dr DK Bhalla (IAS), Secretary, Lok Sabha Secretariat, who has spent almost three decades in NE, has recently come up with a comprehensive book 'Strategic Significance of North East India' which succinctly brings out the vital important th1at is attached to the North Eastern states vis-à-vis relations with neighbouring countries in the light of 'Act East Policy'. Independent journalist Nivedita Khandekar caught up with Dr Bhalla on behalf of DiplomacyIndia.com to know what is the future trajectory for these states :
Q1. North East India forms a strategic link for India's 'Look East Policy' and now the 'Act East Policy'. For little more than a decade, there has been relative peace and calm in the NE. Despite that, why do you think there has not been enough economic growth in the NE ?
A: There are several factors, the first and foremost is the security perception in the mind of investors. Private capital, where ever it has to go, goes with profit motive, it is their main incentive. North East region of the country borders many countries, especially China, Myanmar and other ASEAN countries. So the perception of that security threat that they are going to be in border area will remain. Our relation with China has been little tardy in the past (although) it has been improving. Apart from that, the region is isolated and far away, it is hardly a 22 kms stretch of Siliguri Corridor, the chicken's neck that attaches this region to the rest of the country. So that perception remains what happens if this region is cut off? What happens to their investment?
When it comes to infrastructure, although in last 40 years, there have been many centrally sponsored schemes and some progress has been made. Progress has been very slow. Though the central government is giving money but the implementation lies with the state government. Beyond a point you cannot press these states as to the urgency of doing things the way they need to be done.
The capacity of the region, not itself, has never been the target of development. The target of development was, let us have infrastructure, let us have services. But the contractors from the region themselves do not have enough equipment nor do they have trained man power which can conceive or execute projects. So, without the involvement of domestic or international companies, the local contractors will not be able to work.
Thus, it is not only the peace from various insurgent outfits which can usher in the development required, but all such factors need to be tackled. The current government seems to be realizing the urgency. If the 'Act East' policy has to happen and the NE has not just to develop on par with other states of the nation but also as a development hub of the South East Asian region, then it has to be pushed in fast.
"Shortage of manpower has to be handled with capacity building with skill development."
Q2. The region has seen lot of inward and outward migration, naturally for economic reasons. Those who have come to work in the North East from other parts of India after often targeted by ethnic groups. How does the government plan to address this dichotomy of shortage and manpower and need of economic activity ?
A: People in the North East have an inherent tendency of wanting to have ethnic exclusivity, couple it with immigration from the neighbouring countries. If there has been lot of immigration from neighbouring countries, they feel it is a threat to their jobs. This has also accentuated a feeling of being left out and they feel threatened for their ethnic exclusivity. There have been a lot of ethnic revolts in the North East, starting with the 'Sons of the soil movement'. That feeling persists as was evident in recent things. You talk of Karbi Anglong, there are issues between Karbi-Dimasa. The moment Nagaland talks of Greater Nagaland, there have been very severe reactions from Arunachal Pradesh, Manipur.  You talk of Triupra; there has been residents versus Bengalis issues. You talk of Bodos, they talk of Bodos versus non-Bodos. This ethnic exclusivity desire has created a problem – state versus community, also of communities versus communities. Of course, it needs to be handled with lot of sensitivity.
As far as shortage of man power is concerned that has to be handled with capacity building with skill development which I would say the current government is pushing hard. Formation of a separate ministry for skill development will help. We need to give them two to three years after we assess the success of the scheme. But this is a step in the right direction.
Strong communities are an insurance against any negative fallout of any economic activity, future is community based eco tourism in the hills.
Q3: North East states have huge potential for tourism but the kind of development the tourism has seen the potential has not been exploited as yet. Why has that happened that these states have not been developed in that manner so as to add to the local economy ?
A: North East development is going to rest on few pillars only. It is not a place where you can develop everything. The schemes of development, such as developing industry etc., which are aimed at rest of the nation, are not going to work here. The main potential lies in eco-tourism because of the bio diversity, (and) by nature man power is hospitable, most of them are English-knowing. Beautiful hills offer chance for eco tourism, then there are plantations, horticulture, food processing, hospitality, airlines and even IT. Now the realisation that these are the areas which can be developed for tourism, has dawned. But for development of tourism, first of all you need infrastructure. You need roads, air connectivity and excellent telecom connectivity. Hills by nature are very fragile. You cannot do development in these areas which will endanger the bio diversity or the fragile habitat. Communities are very strong which is an insurance against any negative fallout of any economic activity but at the same time, it is a constraint also. The communities will have to be involved, they have to be convinced, trained. It will be community based eco tourism in the hills.
Except in plains of Assam where you can have conference tourism and five-star tourism. I have written a book on it, 'Sustainable Tourism Strategies for Nagaland' and another, 'Tourism Potential of North East'. In this, I have exclusively talked about the community centric societies which are there and how in the hills sustainable tourism can be developed. Tourism will happen but it needs to take care of sustainability and sustenance of the habitat and ensure that it is not threatened.
Now we have to think in terms of ASEANS and a South East Asian hub in the North East. Not only the domestic tourist from Gujarat and Bengal we need but also international tourists. Model is provided by Bhutan – they have niche tourism, costly but sustainable. China has done very well.
Q4. What does the common man in any of the North Eastern state benefit from 'Act East Policy'? What do you think can be an incentive for these states' people to contribute to the national policy ?
A: Tourism is a multiplier; so many sectors get involved in it – financial sector, airline sector, roads, telecoms, hospitality, floriculture. All these sector are set to benefit. This will all benefit the common man but you cannot have man power without training them.
Why do people look forward to going to Thailand again and again? One is infrastructure and second is people. There is no police in Thailand except to help the tourist, it is tourism police. People with good salaries help tourist by being their guide. Any development in the North East will happen from international arena keeping in mind the security perception of the private investor from mainland India which is not going to change in hurry. Because, they have rest of the country to invest, which are safe, which do not have problems of conflicts. So regions that are near to the NE, China, and Myanmar etc. will bring in the business.
Q5. What do you think can be the role of …a. Politicians, b. corporate houses and c. Celebrities such as film stars and cricketers, in the integration, rather a paradigm shift in approach for rest of India towards NE ?
A: We talk of national integration but the moment it comes to indentifying with rest of the country, north India looks at south India as a different entity. Cultural distinction is so difficult to assimilate in family milieu. It is a perception built over centuries. The moment it comes to northeast, their features are Mongoloid, immediately their akin-ness to Chinese. Secondly there is perception that tribal societies are free and liberal. It is misconstrued in wrong context by north Indians. The NE people face much less problems in peaceful south or west southern Indian cities, but more problems in north.
This ignorant fringe of countries population needs to be educated. It is going to happen otherwise also Danny Dengzopa, now Bhutia, Mary Kom etc. We require more and more heroes from the North East. Very few people know that lot of young lieutenants and captains and soldiers, lieutenants who died in Kargil war were from northeast. All these people need to be highlighted.
Also, people from other states – politicians, corporate house. They need to go there. Assam chose a party of North India milieu. BJP did not have a pan Indian presence till now, but is changing; it is a party with lot of northern context, mainly Hindu context. People have accepted, Assam going for a change that also with a party associated with northern milieu. Slowly they are accepting this part. But mainland India has got to do more. Since Assam BJP government took over, lot of central ministers are going there. This means they want develop northeast not for the sake of the state but for the sake of the country.
Politicians are doing their bit, they need to do more. Celebrities are doing their bit, they need to do more. We also need to portray (NE) in Bollywood, they have started, but little too late. Bollywood is not using the locales for shooting. But they started portraying – for e.g. a character in Three Idiots, Mary Kom and Pink. Mahindra has chain of resorts all over, why not North East India? Bollywood can do much more, NE is the Switzerland of India.
We need to engage with China, Myanmar and all the ASEAN countries. Trade is going to solve the problem there, not engaging militarily.
Q6: Traditionally northeast has had a wonderful system of inland water transportation, it had connectivity to Bangladesh, to Myanmar and also there was cross border trade, post 47 things changed. Now with Act East Policy what is the future of this ?
A: It is not only the inland water ways which needs to be developed; it is also the air connectivity within the region, with mainland India and with neighbouring countries, especially the ASEAN countries. Road development is going to help a lot.
Inland water ways, actually prior to 1947 with the Bangladesh now and Pakistan earlier, was the mainstream and even now the connection with Chittagong port is going to solve most of the problems of Tripura.
Both Bramhaputra and Barak offer a lot of scope for this. Already the government is giving a big push to this, Bramhapurtra is being declared as national highway 2 in inland waterways and in Barak river as inland water way 6. Similar move is planned for a river from Mizoram. Sadia is being connected. All these things are happening, but should happen at a faster pace. Northeast is like a second home to me. I would want to see it develop within my lifetime, a region where everyone would want to go.
In my book 'Future of India', I have written two exclusive chapters for NE and mention all this that is required to be done. 'Sustainable Tourism' talks about sustainability vis-à-vis development and that conundrum gets some solutions in the book. 'Strategic Significance of North East' is important, even in the country's safety, national interest point of view. We need to engage with China, Myanmar and all the ASEAN countries. Trade is going to solve the problem there, not engaging militarily. Trade will also solve the problem of insurgency as there will be no feeder stock for insurgency if youth get a chance.
ENDS