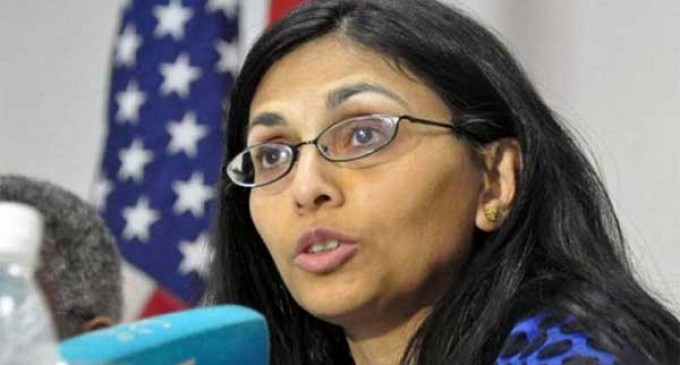 Washington, Nov 24  US Assistant Secretary of State for South Asia Nisha Desai Biswal is heading to India Monday ahead of President Barack Obama's January visit to join India's Republic Day parade as chief guest.
The State Department announcement of Biswal's trip to India "for internal consultations and bilateral meetings" came shortly after the White House announced Obama's acceptance of Prime Minister Narendra Modi's invitation.
But Department spokesman Jeff Rathke suggested that Biswal's Nov 23-Dec 5 foreign trip that will also take her to Nepal, Bangladesh, Uzbekistan, and Switzerland, was a "long-planned trip for a variety of reasons".
"I'm not going to connect it to the president's trip," he said. "Of course, it gives her the opportunity, though, to contribute to developing the agenda for the president's visit. But that's led by the White House, naturally."
Asked to comment on Obama's planned visit to India, Rathke said: "Well, of course we're excited that the president's going to India."
"We've had a great visit by Prime Minister Modi to the United States and we have a number of areas where we're cooperating," he said.
"We've got a vibrant and productive bilateral partnership that we look forward to developing further," Rathke added.
Obama's India trip in January would mark twin firsts in that it will make him the first US president to attend India's Republic Day celebrations and the first one to visit India twice while in office.
Obama's visit, signifying a renewal of India-US strategic partnership, comes after Modi's highly successful visit to the US in September that marked the beginning of a new chapter in India-US relations after the drift in the last days of the previous UPA government.
Modi and Obama also met on the sidelines of G20 summit in Brisbane on Nov 14.
This will be Obama's second visit to India after his visit to India in November 2010 at the invitation of then prime minister Manmohan Singh. He had then also addressed a joint session of the Indian parliament.
Obama, in turn, had chosen to host Manmohan Singh for the first official state dinner of his presidency in November 2009.