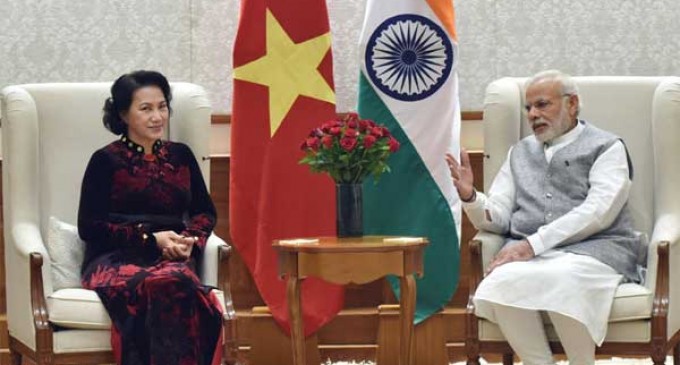 New Delhi, Dec 9 (IANS) Prime Minister Narendra Modi on Friday said that a new civil nuclear agreement between India and Vietnam will boost ties with the Southeast Asian nation seen as a crucial partner of New Delhi in that region.
"The Prime Minister said that the bilateral Agreement on Cooperation in Peaceful Uses of Atomic Energy, being signed today (Friday), will further strengthen the Comprehensive Strategic Partnership between India and Vietnam," External Affairs Ministry spokesperson Vikas Swarup told the media after visiting President of Vietnam's National Assembly, Nguyen Thi Kim Ngan, called on Modi here.
The agreement between the Indian Global Centre for Nuclear Partnership and Vietnam Atomic Institute was decided during Modi's visit to Hanoi in September this year, while India raised its relationship with Vietnam from "Strategic Partnership" to "Comprehensive Strategic Partnership".
It was the first prime ministerial visit from India to Vietnam after Atal Bihari Vajpayee's visit in 2001.
In a joint statement issued following that visit, both Modi and his Vietnamese counterpart Nguyen Xuan Phuc "expressed satisfaction at three decades of bilateral cooperation in the use of atomic energy for peaceful purposes pursuant to the agreements signed by the two countries in 1986".
Friday's agreement is important given that Vietnam is India's country coordinator for the Association of Southeast Asian Nations (Asean), a region which is the focus of India's Act East Policy.
In November, India signed a civil nuclear deal with Japan during Modi's visit to Tokyo.
Apart from Vietnam and Japan, other countries with which India now has civil nuclear agreements include the US, Russia, Australia, Canada, France, Britain, South Korea, Mongolia, Kazakhstan, Namibia and Argentina.
In his meeting with Ngan on Friday, Modi also called for increased interactions between the parliaments of India and Vietnam and the institution of an exchange programme for young parliamentarians between the two countries.
"The Prime Minister recalled their earlier meeting in Hanoi during his visit to Vietnam in September 2016," Swarup said.
"He said that Ngan, as the first woman to head the National Assembly of Vietnam, is a source of inspiration to women across the world."