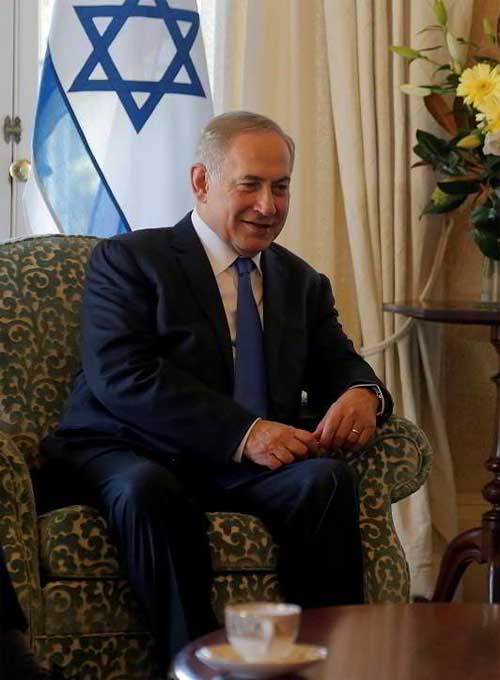 Mumbai, Jan 18 (IANS) Visiting Israel Prime Minister Benjamin Netanyahu hosted a power-breakfast and held discussions with a select group of top Indian CEOs, industrialists and bankers here on Thursday morning.
Among the CEOs present were Ashok Hinduja, Anand Mahindra, Adi Godrej, Ajay Piramal, Harsh Goenka, Chanda Kochhar with whom Netanyahu cheerfully interacted before getting down to breakfast-cum-business at the Hotel Taj Mahal Palace.
In his remarks, Netanyahu said the partnership between India-Israel is doing wonders and how he had "a strong personal friendship with Prime Minister Narendra Modi."
He also said the future belongs to "those who innovate and its our job to encourage you to innovate."
Later, he will address the India-Israel Business summit which will see the participation of top business personalities from both countries.
Maharashtra Chief Minister Devendra Fadnavis will be present at the summit and is later likely to have a one-to-one meeting with Netanyahu.
Later, he will pay homage to the victims of 26/11 2008 Mumbai terror strikes at the hotel and visit the Chabad House in Nariman House, Colaba along with the 11-year-old survivor, Moshe Holtzberg this afternoon.
This will be followed by a meeting with the small but thriving Indian Jewish community — including representatives of the Israeli Jews, Bene Israelis and Baghdadi Jews living in Mumbai and surroundings.
He will top it off with a gala dinner meeting with top Indian film industry players at the much-anticipated 'Shalom Bollywood' at 8 pm, in which megastar Amitabh Bachchan, leading actors and actresses, producers, directors shall participate.
Netanyahu and his wife arrived here late on Wednesday night for a two-day visit to Mumbai and will return to Israel on Friday morning.