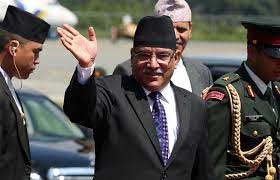 New Delhi, April 6 (IANS) Making his first foreign trip after returning to power in February, Nepal Prime Minister K.P. Oli made a strong pitch for Indian businessmen to invest in his country by benefiting from its economic liberalisation and being a safe destination for foreign investment.
On their arrival on a three-day visit at the IGI Airport here, Oli and his wife Radika Shakya were received by Union Home Minister Rajnath Singh.
Viewed as an important visit amidst a strain in ties, Oli had an informal meeting with Prime Minister Narendra Modi at his official 7, Lok Kalyan Marg residence. The two leaders were believed to have discussed bilateral and regional issues, especially ones that have bedevilled bilateral relations.
Oli's first foreign visit to India after taking charge as Nepal Prime Minister for the second time keeps up with the tradition of India-Nepal ties under which the prime minister always makes the first visit to India.
Oli also met Congress President Rahul Gandhi and former Prime Minister Manmohan Singh and discussed "various dimensions of Nepal-India relations", according to the Nepalese Embassy here.
In his first official engagement in Delhi, Oli interacted with representatives of the Indian business community.
"Nepal will need massive investment, many of its sectors are virgin territory for investment. I invite Indian companies to come and invest in Nepal… (that) is now safe for foreign investment."
He noted that his government enjoyed three-fourths majority in Nepal's lower house of Parliament allowing for "stability and continuity in policy… towards a liberal economy and liberal economic policies.
"We want to work jointly with our Indian friends on our way to prosperity. We aspire to stand as a developing country. Our motto is Prosperous Nepal, Happy Nepali."
"We are committed to a liberal economy. The government's key partner is the private sector and we do not believe in nationalisation of private companies."
Indian firms are the biggest investors in Nepal, accounting for about 40 per cent of total approved foreign direct investments (FDI) and are working in the manufacturing, services, power and tourism sectors. Some large Indian investors include ITC, Dabur, Hindustan Unilever, MTNL, State Bank of India, Punjab National Bank, Life Insurance Corp and Asian Paints.
In 2016-17, Nepal imported $6.1 billion worth of goods and services from India and exported only a little more than $400 million worth, making for a trade deficit of over $5.7 billion.
Nepal hopes to correct this trade imbalance by attracting more Indian FDI into the country.
Oli's visit comes amid a hitch in bilateral ties.
He had to step down as Nepal Prime Minister in 2016 following a blockade on the India-Nepal border. Many in the Himalayan nation blame India for the blockade that crippled Nepal's economy.
The ties were further strained after Nepal decided to join China's One Belt One Road amid India's concerns that the Chinese initiative would harm its strategic and economic interests.
Nepal has also signed a host of trade and transit pacts with China.
Prime Ministers Modi and Oli will hold delegation level talks on Saturday at Hyderabad House here.
The two sides are expected to sign pacts related to agriculture, research and development, education and training, exploring the possibility of inland water navigation upto Indian ports from Nepal, and expansion of Indian rail up to Kathmandu between the two countries.
According to Nepalese media, Oli will take up with Modi various issues including the early execution of India funded projects in Nepal, implementation of the Mahakali Treaty, which pertains to sharing water of a river by the same name, and construction of integrated check-posts.
Oli is also scheduled to visit the G.B. Pant University of Agriculture and Technology and the Breeder Seed Production Centre and an integrated farming project in Uttarakhand.