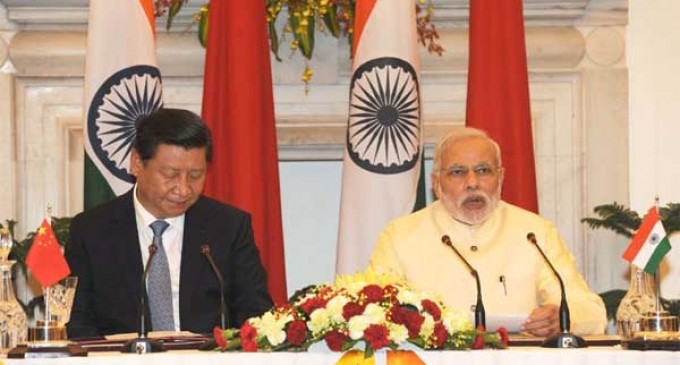 New Delhi, Sep 19  India expressed concern over the incursion by Chinese troops on the border and said such incidents should be resolved soon as peace and tranquillity on the border was essential for boosting bilateral economic cooperation.
Prime Minister Narendra Modi, in a media address after talks with Chinese President Xi Jinping, also suggested that clarifications on the Line of Actual Control (LAC) "would be of use" in solving the festering border question and it should be restarted again.
"I have suggested that the clarifications on the LAC will be of lot of use, and should be started again. It was stopped for some years," Modi said.
Modi's comments come amid reports that hundreds of Chinese troops have intruded into the Chumar sector in Ladakh, the second instance this week.
Chinese President Xi said both sides have agreed to "continue to be sensitive and respectful to each others' sensitivities and concerns and progressively handle the outstanding issues in a positive attitude".
But he reiterated the Chinese position that the boundary question is "left over from history" and both sides have made progress in maintaining peace and tranquillity in the border areas.
Referring to the latest incursion by hundreds of Chinese troops in Chumar in Ladakh, Xi said: "Since the boundary is yet to be demarcated, sometimes there could be instances (of transgressions) and both sides are fully capable to manage to resolve the issues through border-related mechanism so that such incidents have little impact on ties."
He said China would work with "friendly determination" with India to settle the boundary question at an early date and for peace and tranquillity on the border.
He said both are important neighbours and have "some outstanding issues" but both should work actively and seriously together to handle them and seek amicable relations with each other.
Coinciding with the Chinese president's visit, Tibetans in the capital held vociferous protests demanding freedom for Tibet. The protests were held as Modi and Xi were holding talks at Hyderabad House.