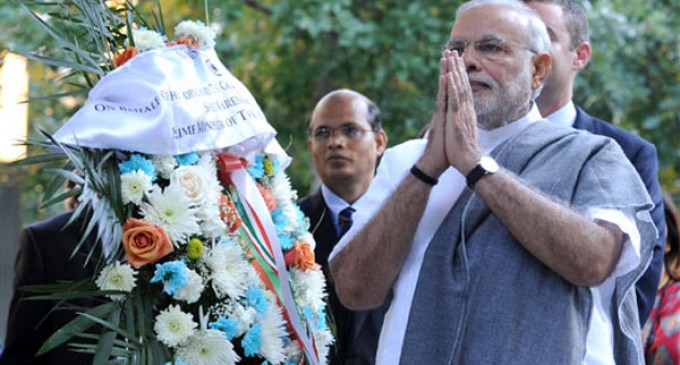 New York, Sep 27 Symbolising India's resolve to fight terrorism, Prime Minister Narendra Modi Saturday paid tributes at the 9/11 memorial where the twin towers of World Trade Centre, destroyed by Sep 11, 2001 terrorist attack, once stood.
Dressed in a half-sleeve white Modi kurta and churidars and a grey shawl thrown on his left shoulder, Modi walked to the grey granite memorial site, also known as Ground Zero, and stood solemnly before it with folded hands.
He then placed, one by one, several yellow roses on the memorial slabs around the twin memorial pools with names of more than 3,000 victims of the attack, including many Indian-Americans, etched on it in bronze.
Besides the names of every person who died in the 9/11 terrorist attack, names of the six victims of Feb 26, 1993 World Trade Centre bombing are also inscribed on it.
After that Modi visited the 9/11 Museum which includes a memorial exhibition dedicated to commemorating the unique life of each victim.
Modi's visit to the 9/11 memorial is seen as symbolic of India's resolve to fight terrorism of which it has been a major victim.
The Indian Ambassador to US S. Jaishankar and other officials were with Modi at the 9/11 Memorial.
Occupying eight of the 16 acres at the World Trade Centre, the Memorial features two enormous waterfalls and reflecting pools, each about an acre in size, set within the footprints of the original Twin Towers.
More than 400 trees surround the reflecting pools. Its design conveys a spirit of hope and renewal, and creates a contemplative space separate from the usual sights and sounds of a bustling metropolis, according to the memorial's website.
A small clearing in the grove, known as the Memorial Glade, designates a space for gatherings and special ceremonies.