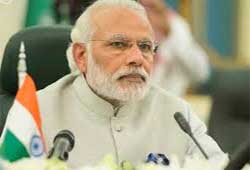 New Delhi,, April 9 (IANS) Signalling India's growing global importance as an energy consumer, the 16th International Energy Forum (IEF) ministerial will be inaugurated here on Wednesday by Prime Minister Narendra Modi, according to an official announcement.
The meeting of ministers of the 72-member IEF "is the largest gathering of energy ministers from across the globe, industry leaders and heads of key international organizations who will debate the future of global energy", a Petroleum Ministry release said here.
"Hosted by India and co-hosted by China and Korea, IEF16 aims to focus on how global shifts, transition policies and new technologies influence market stability and future investment in the energy sector," it said.
Among ministers from overseas attending the meeting this year are those of Saudi Arabia, the UAE, Iran, Qatar, Nigeria, Japan, China, Russia and the US, the ministry said.
"Apart from them, IEF Executive Director Sun Xiansheng, IEA (International Energy Agency) Executive Director Fatih Birol, OPEC (Organisation of Petroleum Exporting Countries) Secretary General Mohammad Sanusi Barkindo and heads and senior officials from international organizations like CNPC, Total, VOPAK, Exxon Mobil, among others, will also attend the event," it said.
"The IEF is unique in that it comprises not only consuming and producing countries of the IEA and OPEC, but also transit states and major players outside of their memberships, including Argentina, China, India, Mexico, Russia and South Africa," it added.
The statement said delegates to the ministerial have been invited "to consider how global market shifts and energy transition will shape the future of energy security".