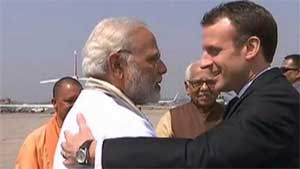 Varanasi, March 12 (IANS) Prime Minister Narendra Modi received French President Emmanuel Macron and his wife here on Monday, officials said.
Flanked by Uttar Pradesh Governor Ram Naik, Chief Minister Yogi Adityanath, public representatives and state government officials, Modi accorded a warm welcome to Macron as he alighted from his special Falcon aircraft at the Lal Bahadur Shastri International Airport here.
Modi arrived at the airport in a special Indian Air Force (IAF) plane minutes ahead of the visiting foreign dignitary.
An IndiGo flight from Varanasi to Mumbai was held up briefly due to the VVIP movement in the skies, an official told IANS.
After a while, both Modi and Macron flew in a chopper to Dadarkalan in Mirzapur where they will jointly inaugurate a solar power plant which has been built with the help of a French company.