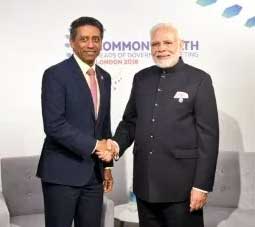 London, April 20 (IANS) As part of India's diplomatic reach-out across the Commonwealth nations, Indian Prime Minister Narendra Modi on Thursday met a number of leaders of Africa, and the island nations of the Caribbean, Indian Ocean and the Pacific on the sidelines of the Commonwealth Heads of Government Meeting (CHOGM) here.
Keeping with India's increasing engagements with Africa, Modi met Gambian President Adama Barrow and Ugandan President Yoweri Museveni, according to tweets by Indian External Affairs Ministry spokesperson Raveesh Kumar.
According to Kumar, Modi and Gambian President Barrow discussed steps to deepen the bilateral partnership.
The Indian Prime Minister also met Fiji Prime Minister Frank Bainimarama, Solomon Islands Prime Minister Rick Houenipwela and Kiribati President Taneti Maamau.
India has been increasingly reaching out to these Pacific island nations given their vulnerability in the face of climate change and their stakes in the blue economy.
Fiji is also home to a large number of people of Indian origin, who constitute around 37 per cent of the country's total population of nearly 900,000. Most of them are descendants of indentured labour taken from India in the 19th and early 20th centuries to work in the sugarcane plantations there.
Among the Caribbean islands, Modi met the St. Lucia and Antigua & Barbuda Prime Ministers, Allen Chastanet and Gaston Browne respectively.
As India continues to engage with its extended neighbourhood, the Indian Prime Minister met Seychelles President Danny Faure and Mauritius Prime Minister Pravind Kumar Jugnauth.
While Modi discussed cooperation in areas of trade and investment and other bilateral issues with Faure, the talks with Jugnauth were around cooperation in the areas of trade and investment, maritime cooperation and people-to-people ties, according to Kumar.
India sees both Mauritius and the Seychelles as important stakeholders in the blue economy and Modi has made official visits to both these countries.
Significantly, all these nations whose leaders Modi met are prospective members of the India-initiated International Solar Alliance (ISA).
Launched by Modi and then French President Francois Hollande at the Paris climate summit in 2015, the ISA was conceived as a coalition of solar resource-rich countries to address their special energy needs and provide a platform to collaborate on dealing with the identified gaps through a common, agreed approach.
It is open to all 121 prospective member countries falling between the Tropics of Cancer and Capricorn.
Earlier on Thursday, Modi attended the opening ceremony of this year's CHOGM, becoming the first Indian Prime Minister to attend this biannual event since 2009.
Declaring the summit of the 53-nation Commonwealth open, Queen Elizabeth II proposed that her son Prince Charles should follow her and lead the organisation which her father, King George VI, founded after the end of the British Empire.
India, which is home to half of the 2.4 billion population of the Commonwealth, is expected to play a catalytic role in reinvigorating the organisation which had lost its relevance over the years in an increasingly multipolar world.