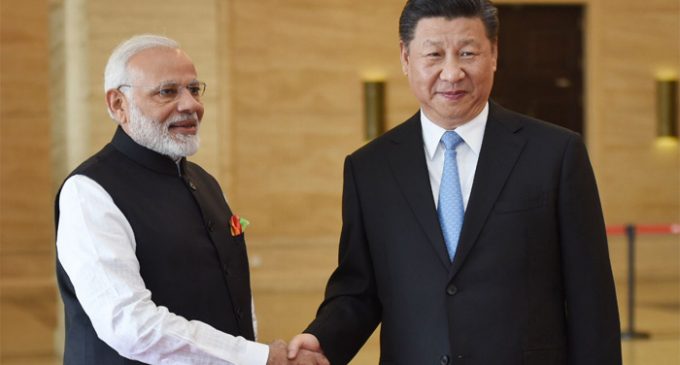 Wuhan (China), April 27 (IANS) Less than a year after their two armies ended a tense stand-off, Prime Minister Narendra Modi and President Xi Jinping on Friday discussed ways to boost Sino-Indian ties as they opened a two-day informal "one of its kind" summit in the central Chinese city of Wuhan.
After being welcomed by Xi with a warm and firm handshake at Hubei Provincial Museum, Modi had a one-on-one meeting with Xi and exchanged views on solidifying bilateral relations, Indian officials said. He also invited Xi to India in 2019.
Modi was welcomed at the museum with an impressive cultural performance.
"India and China cultural connect goes back many centuries and is reflected in present times through the popularity of Bollywood, yoga and other aspects of Indian culture," Indian External Affairs Ministry spokesperson Raveesh Kumar quoted Modi as saying.
The Prime Minister said that people of India were proud that President Xi had gone out of his way to receive him twice away from Beijing, Kumar said.
As Modi opened talks with Xi, the Indian leader said more such meetings were needed and invited Xi to India next year.
"I am grateful for your invite and the welcome extended by you. This is perhaps the first time when you have received an Indian Prime Minister twice away from Beijing," Modi said. "This is a matter of pride for India as you yourself came to Wuhan to welcome me.
"You rightly pointed out that leaders of the two countries which represent 40 percent of the world's population are meeting. This is just not an informal summit of two leaders but it has a historical context too."
Modi said when he and Xi met informally in July in Hamburg, an informal summit was discussed. "You invited me to informal talks and created a positive environment. This has your personal contribution to this meet.
"In the history of 2,000 years, the economies of India and China were the anchors of the world economy for 1,600 years. In these 1,600 years, Indian and Chinese economies together accounted for 50 percent of the world's economy."
Xi took Modi on a tour of the exhibition of Marquis Yi of Zeng Cultural Relics and Treasure at the museum.
Modi arrived at the museum and shook Xi's hand for 30 seconds. Both leaders then took a tour of the site for around an hour.
They saw an exhibition of fine relics from the Chinese civilization — with special focus on the culture of Hubei.
Modi and Xi also exchanged views on the relationship and communications between the ancient civilizations of China and India.
They will hold another meeting later on Friday with delegations from both sides being present. This will be followed by a dinner hosted by the Chinese President.
The talks between the two leaders will be more substantive on Saturday with a walk by the East Lake, a boat ride and discussion at the East Lake guesthouse, which was once Mao Zedong's private villa.
India and China, who fought a brief war in 1962 and have a history of mutual distrust, nearly came to an armed conflict near their border in 2017, taking their ties to a new low.
However, the rendezvous between Modi and Xi in the heart of China was a sign enough that the two countries were willing for a new start in their tense relationship.
The meeting was an offshoot of Xi-Modi discussions just after the resolution of the Doklam crisis on the sidelines of BRICS Summit at Xiamen in China.
"It is an important meeting between both the leaders. Development is the most important topic for the leaders of these two countries," Long Xingchun, Director of the Centre for Indian Studies at China West Normal University, told IANS.
"India can achieve its goal and become a global power in the world with the help of China. China is rich and stronger than India but we also have so many domestic problems to deal with.
"The two countries need to prioritize development. Now, America's protectionist policy is not a good news for India and China," Long said.