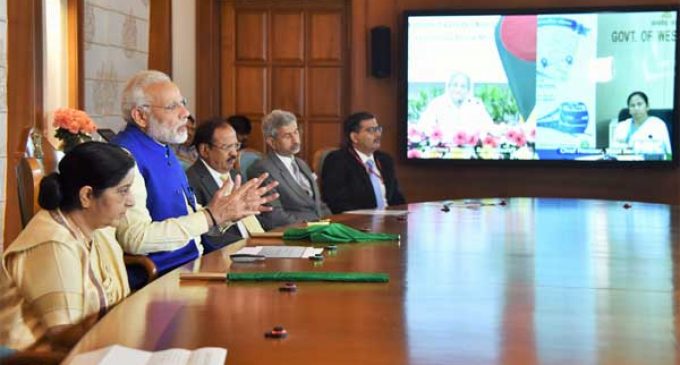 New Delhi/Dhaka/Kolkata Nov 9 (IANS) Taking their connectivity links further, India and Bangladesh on Thursday opened a new rail line with Prime Minister Narendra Modi, his Bangladeshi counterpart Sheikh Hasina and West Bengal Chief Minister Mamata Banerjee jointly flagging-off the Kolkata-Khulna 'Bandhan Express' via video-conferencing.
The dignitaries also inaugurated the International Passenger Rail Terminal, End-to-End Immigration and Customs Clearance Facilities (for passengers of Maitree Express and Bandhan Express) at Kolkata station, under the India-Bangladesh Cooperation in Railways.
Rail bridges over river Titas and Bhairabh in Bangladesh were also launched, to speed up connectivity between Dhaka and Chittagong.
Prime Minister Modi said that India takes pride in being a "reliable partner" in Bangladesh's development and that the two bridges, built at a cost of $100 million out of India's Line of Credit, would help strengthen the rail network of Bangladesh.
He said development and connectivity are linked with each other and the ties between India and Bangladesh, particularly between West Bengal and Bangladesh, are decades old. He said Thursday's launch was aimed to further cement the close bilateral bonds.
Speaking in Dhaka, Sheikh Hasina said the launch was the fulfilment of a long cherished dream and another happy occasion in Bangladesh-India relations.
"I am also confident that these services would give a boost to cultural exchanges and tourism between our two peoples," she said.
"I hope this fine display of mutuality of our relationship will further strengthen our bilateral relations."
Bangladesh and India are working to re-open pre-1965 rail links for freight transport, Hasina added.
In Kolkata, Chief Minister Banerjee said: "This is a huge gain for passenger convenience. When the Barisal Express, which used to ferry passengers till 1965, was shut down, passengers were inconvenienced. When I was the Rail Minister, through Bongaon Petrapole we had started some passenger services. I hope the ties between the two countries deepen.
"Bangladesh is one of India's best friend in the world. Bandhan express will strengthen the relationship. Hasinaji I invite you to visit Bengal."
The airconditioned 'Bandhan Express' will run every Thursday from both Kolkata and Khulna. It will cover a distance of 177km in four and half hours.
The train would be open to passengers from November 16.
The train, according to the schedule, would leave Kolkata at 11 a.m. (India time) and reach Khulna in four and half hours.
The construction of the 984-meter long and seven-meter wide Bhairab Railway Bridge started on December 25, 2013 and ended last month, the Daily Star reported. India's Ircon-Afcons joint venture constructed the bridge which has both dual gauge and broad-gauge facilities.
An international rail passenger terminal was also inaugurated at Chitpur in Kolkata for passengers of the Moitree Express between Kolkata and Dhaka. This will help ease customs and immigration formalities and cut travel time between Dhaka and Kolkata by three hours.
The bridge over the Titas was built by Indian company Gammon-Flcl Consortium.
Courtesy : Sarkaritel.com