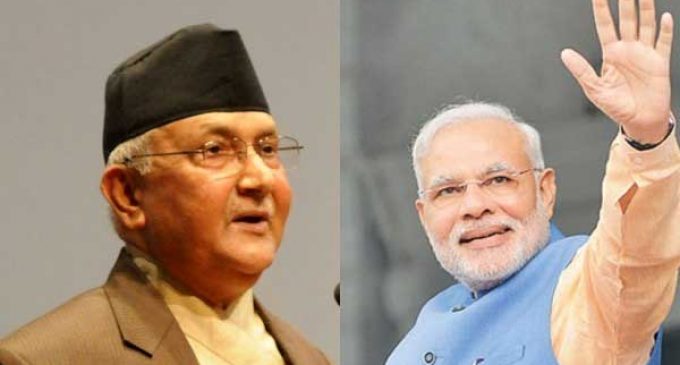 Kathmandu, Feb 16 (IANS) Indian Prime Minister Narendra Modi has congratulated Nepal's new Prime Minister K.P. Sharma Oli and invited him to visit India.
In a telephone call at 10.30 p.m. on Thursday to the CPN-UML chairman who was sworn in as the 41st Prime Minister of Nepal, Modi expressed his best wishes for the successful tenure of Oli's premiership.
Modi also pledged to provide all possible cooperation for the development of Nepal, according to a statement issued by Oli's private secretariat.
This is the third telephonic conversation between the two leaders after Oli's party, the Communist Party of Nepal (Unified Marxist-Leninist), emerged as the largest party in Nepal's latest elections.
During the conversation, Oli told his Indian counterpart that his prime focus would be on the development and prosperity of the country. He also pledged to further consolidate friendship with India in the coming days, the statement said.
After the telephone call, Indian Ambassador to Nepal Manjeev Singh Puri visited Oli at his private residence to extend his congratulations.
Puri delivered a message from the Indian Prime Minister expressing hope that Nepal would gain stability, economic development and prosperity under Oli's leadership.
The message also noted that Modi would give "high emphasis" on further enhancing the age-old relations between Nepal and India being based on trust, goodwill and mutual confidence.
And in doing so, India is ready to extend cooperation for the development of Nepal, standing with Nepali people and the Nepal government, it said.
Indian Minister for External Affairs Sushma Swaraj also congratulated Oli via a phone call on Thursday night.
Oli was sworn in earlier at a ceremony on Thursday where President Bidya Devi Bhandari administered the oath of office.
This is the second time Oli has been appointed to the top post. He was the Prime Minister from October 11, 2015 to August 4, 2016.
Oli's communist party secured near majority in Parliament and is supported by the Communist Party of Nepal (CPN Maoist Centre) to form the government.
The Maoist Centre and UML are set to merge soon.