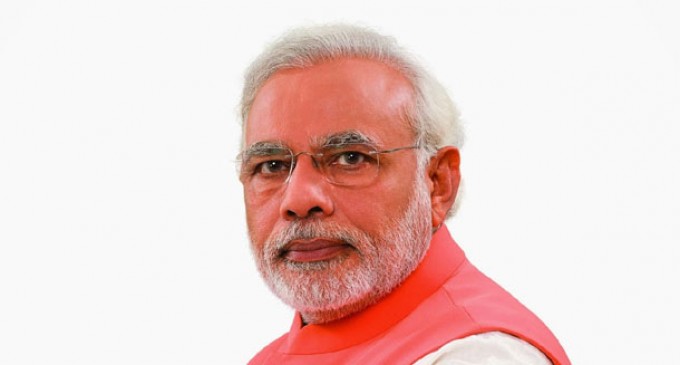 New Delhi, Nov 2 Barring most of the African Union countries, Prime Minister Narendra Modi will have met leaders of most countries of the world by the end of December 2014, pointing to the heightened stress on foreign policy by the new Indian government that took power on May 26.
Modi, who set off a foreign policy buzz with invites to eight South Asian neighbours, including Pakistani Prime Minister Nawaz Sharif, for his swearing-in, has met leaders of many countries, including the big powers the US, China and Russia.
During the BRICS meeting in Fortaleza, Brazil, July 15-17, he met Dilma Rousseff of Brazil, Vladimir Putin of Russia, China's Xi Jinping and South Africa's Jacob Zuma. He also met the leaders of 11 countries of Latin America at the sidelines of the meet -Argentina, Bolivia, Chile, Colombia, Ecuador, Guyana, Paraguay, Peru, Suriname, Uruguay and Venezuela.
He has visited neighbours Bhutan and Nepal and hit it off with Japan's Shinzo Abe during his visit in September. Modi also paid a successful visit to America where besides bonding with President Barack Obama he also met with Israeli Prime Minister Benjamin Netanyahu.
He has already met Australian Prime Minister Tony Abbott, who was the first foreign leader to meet the new government when he arrived here in September. Chinese President XI Jinping also paid a successful visit to India last month.
In November, which is set to see heightened foreign policy activity, Modi will meet the Southeast Asian leaders at the ASEAN summit in Myanmar. He will also meet the East Asia Summit (EAS) leaders at capital Nay Pyi Taw, which is held at the same time.
The annual summit meeting with the 10-member Association of Southeast Asian Nations takes place Nov 12-13. The 10 countries are Brunei Darussalam, Cambodia, Indonesia, Lao PDR, Malaysia, Myanmar, Singapore, Thailand, the Philippines and Vietnam.
Vietnamese Prime Minister Nguyen Tan Dung has just visited India. Modi wiil get to meet Myanmar President Thein Sein and also the new Indonesian President Joko Widodo.
Modi will be meeting the EAS members, which include beside the 10 ASEAN nations, Australia, China, Japan, New Zealand, South Korea, Russia and the USA.
During the Nov 15-16 G-20 meet in Brisbane, Australia, that follows soon after, he would meet with the members that include Argentina, Australia, Brazil, Canada, China, France, Germany, Indonesia, Italy, Japan, South Korea, Mexico, Russia, Saudi Arabia, South Africa, Turkey, the United Kingdom, the United States and the European Union.
The meeting with the leaders of the 28 EU member states would complete his meeting with the European Union.He is slated to hold a bilateral with German Chancellor Angela Merkel and also British Prime Minister David Cameron.
He flies to Fiji from Australia, where he will meet Prime Minister Frank Bainimarama.
He returns on Nov 20 and after a two-day break travels to Kathmandu for the South Asian Association for Regional Cooperation (SAARC) summit, where he would meet new Afghan President Ashraf Ghani.
He will meet with Russian President Vladimir in December in New Delhi for the annual summit.
President Pranab Mukherjee has been doing his bit too. He went to Vietnam in September and recently he visited Norway and Finland and interacted with the leadership, helping to boost India's presence in the Arctic Council bloc. And he visits Bhutan later this week.
Modi's ever-busy foreign minister Sushma Swaraj has been reaching out and visiting a number of countries. Among neighbours, she has visited Bangladesh, Nepal, Bhutan and Afghanistan and is slated to visit Sri Lanka soon. She is currently visiting Mauritius and would touch base with the Maldives on her way back.
Sushma Swaraj has also attended the Shanghai Cooperation Organisation, interacting with the important Central Asian countries of Kazakhstan, Kyrgyzstan, Tajikistan and Uzbekistan besides Russia and China. Iran and Mongolia were present there as observers, while Belarus, Turkey and Sri Lanka are dialogue partners and Turkmenistan is a guest.
She has also visited Bahrain, Tajikistan, Singapore, Vietnam and Myanmar and earlier this month visited the UK. She is slated to visit the UAE later this month.
India was to host all the 54 countries of the African Union at the India-African Union Forum Summit in December in Gurgaon, but due to the Ebola outbreak in West Africa the meet has been put off for the time being.
Oman's Foreign Minister Yousuf bin Alawi bin Abdullah was the first foreign dignitary to meet with the Modi government in early June, soon after it assumed power.