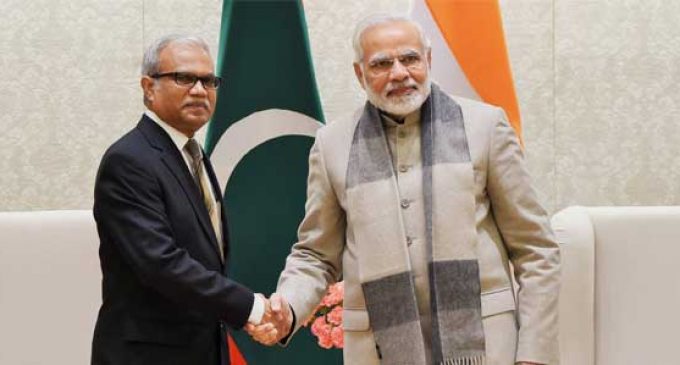 New Delhi, Jan 12  The Maldives has assured India that it will adhere to its "India First" policy in terms of its foreign relations during a meeting here between External Affairs Minister Sushma Swaraj and her Maldivian counterpart Mohamed Asim.
"Discussions centred around strengthening of the development partnership between India and Maldives and enhancing defence and security cooperation," the External Affairs Ministry said in a statement late on Thursday.
"External Affairs Minister conveyed our commitment to achieving the full potential of our relationship in line with India's Neighbourhood First policy," it stated, following the meeting between Sushma Swaraj and Asim, who is also Maldives President Abdulla Yameen.
"The Special Envoy reaffirmed his government's India First policy and emphasised that Maldives attached the highest priority to its ties with India."
Thursday's meeting assumes significance after the Indian Ocean archipelago nation signed a free trade agreement (FTA) with China last year in a surprise move.
The main Opposition Maldives Democratic Party (MDP) led by former President Nasheed raised a red flag after the FTA was rushed through Parliament on November 29 in a record one hour without any debate.
What was surprising was that it was signed even after President Yameen, during a visit to New Delhi, said that his country would sign an FTA with India first.
Following Thursday's meeting with Sushma Swaraj, Asim called on Prime Minister Narendra Modi.
"They discussed the ties between India and Maldives as close neighbours bound by shared history, culture and maritime interests in the Indian Ocean," the Prime Minister's Office said in a statement.
"Special Envoy Asim reiterated the commitment of Maldives to maintain close relations with India under Maldives' 'India First' policy," it stated.
Modi affirmed that India would always be a reliable and close neighbour of Maldives supporting it in its progress and security.
According to the statement, Asim also reiterated President Yameen's invitation to Modi to visit Maldives.
"Prime Minister conveyed his gratitude for the invitation and agreed to the visit at a suitable time," the PMO statement said.