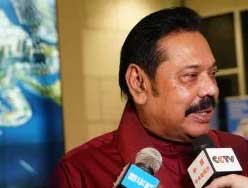 Colombo, Feb 4 (IANS) Sri Lanka and India are expected to finalise an implementation agenda for a $450 million line of credit offered by the latter during Prime Minister Mahinda Rajapaksa's visit to New Delhi this week, a media report said on Tuesday.
In a statement on Monday, Rajapaksa's office said that the line of credit was announced by his Indian counterpart Narendra Modi during President Gotabaya Rajapaksa state visit to New Delhi last November shortly after being elected, the Daily Financial Times reported.
While $400 million will be for infrastructure projects, $50 million will be given as a grant for Sri Lanka to fund security needs including resources needed to fight terrorism, the office added.
Mahinda Rajapaksa will visit India will from February 7-11 on an invitation extended by the Modi.
This will be his first overseas visit after assuming office in November 2019.
According to the statement, the Sri Lankan Prime Minister will hold high-level bilateral meetings with Modi, President Ram Nath Kovind, External Affairs Minister S Jaishankar and other senior government officials.
"The scheduled meetings will build on the strong relationship that already exists between the two countries and include discussions on politics, trade, development, defence, culture and tourism, among others," it added.
With the aim of enhancing engagement in sub-regional maritime security cooperation, the two delegations were also expected to discuss key areas under the defence and maritime security initiatives that include the Sri Lanka-India Annual Defense Dialogue and the Trilateral Maritime Security Cooperation with New Delhi and Male, the Daily Financial Times quoted the statement as saying.
The two sides will also pay attention to strengthening people-to-people contacts by expanding aviation links to the sacred Buddhist sites in India, including the 'Sanchi Buddhist Complex' in Madhya Pradesh.
Following his high-level engagements, Prime Minister Rajapaksa is scheduled to visit several historic religious sites including, Varanasi, Sarnath, Bodhgaya and Tirupati.