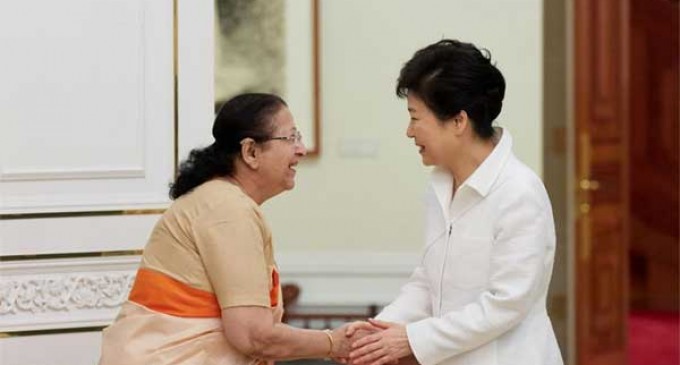 Seoul      (South Korea),   30 September 2016 : Lok   Sabha Speaker  Smt. Sumitra Mahajan called on President of South Korea Ms. Park Geun-Hye today.  During the discussions,  Smt. Mahajan apprised Ms. Park about the strong retaliatory action taken by India  against  the  stance  of  Pakistan  supporting  terrorism.   Ms. Park fully supported India's stand against terrorism.
In the meeting held in the President House of South Korea, meaningful discussions were held on several issues and both the countries stressed upon further strengthening their relationship.  Informing President Ms. Park about  the  strong  action  taken  by India against terrorism, Lok Sabha Speaker Smt. Mahajan apprised her about the continuous terrorist activities being carried out from the territory of Pakistan.
Smt. Mahajan said that India believes in non violence and peace, but It will not hesitate to use its retaliatory power to safeguard its interests.  While supporting India's strong views on terrorism, Ms. Park condemned terrorism of every type.  Ms. Park said that India and South Korea stand together against terrorism.
Smt.  Mahajan and President Ms. Park also discussed  about the progress made on the issues relating to strategic partnership built during the visit of Prime Minister Shri Narendra Modi in May last year. During the discussions on economic relations and other subjects, it emerged that South Korea is a natural partner of India for economic development.  Both the leaders also discussed security issues of North-East Asia.  Ms. Park expressed her concerns on the continuous development of atomic missile technology by North Korea.  South Korea appreciated the response of India on the fifth Nuclear test conducted by North Korea.
---
लोक सभा अध्यक्ष श्रीमती सुमित्रा महाजन ने साउथ कोरिया की राष्ट्रपति सेमुलाकात की
सिओल (साउथ कोरिया), 30 सितंबर 2016 : लोक सभा अध्यक्ष श्रीमती सुमित्रामहाजन ने शुक्रवार को साउथ कोरिया की राष्ट्रपति सुश्री पार्क ग्युन-हे से मुलाकात की। इस दौरान श्रीमती महाजन ने पाकिस्तान द्वारा आतंकवाद को प्रश्रय दिये जाने पर भारत की ओर से की गई कड़ी जवाबी कार्रवाई की जानकारी दी। इस पर सुश्री पार्क ने आतंकवाद के खिलाफ भारत के रवैये का खुलकर समर्थन किया।
साउथ कोरिया के राष्ट्रपति भवन में हुई इस खास मुलाकात में दोनों देश केबीच द्विपक्षीय बातचीत में विभिन्न मुद्दों पर सार्थक चर्चा हुई साथ ही आपसी संबंध और प्रगाढ़ करने पर दोनों ने जोर दिया। स्पीकर श्रीमती महाजन ने राष्ट्रपति सुश्री पार्क को भारत आतंकवाद के खिलाफ की गई सख्त कार्रवाई की जानकारी देते हुये बताया कि किस तरह पाकिस्तान अपनी जमीन का उपयोग लगातार आतंकवादी गतिविधियों के लिये कर रहा है।
श्रीमती महाजन ने कहा कि भारत अहिंसा और शांति में विश्वास करता है लेकिन देश की सुरक्षा के हित में भारत अपनी शक्ति दिखाने से भी नहीं चूकेगा। सुश्री पार्क ने भारत के इस कड़े रूख का खुलकर समर्थन करते हुये हर प्रकार केआतंकवाद की निंदा की। सुश्री पार्क ने कहा कि भारत और साउथ कोरिया आतंकवादके खिलाफ साथ खड़े हैं।
प्रधानमंत्री की पिछले साल मई में साउथ कोरिया की य़ात्रा के दौराऩ हुए स्ट्रेटेजिक पार्टनरशिप के मुद्दों पर प्रगति को लेकर भी स्पीकर श्रीमती महाजन सेराष्ट्रपति सुश्री पार्क की चर्चा हुई । आर्थिक संबंधों सहित अन्य विषयों को लेकर बातचीत के दौरान यह बात भी उभरी कि साउथ कोरिया भारत के आर्थिक विकास केलिये नेचुरल पार्टनर है। दोनों नेताओं ने नार्थ-ईस्ट एशिया के सुरक्षा संबंधी मामलों पर भी चर्चा की। इस दौरान सुश्री पार्क ने नार्थ कोरिया द्वारा लगातार विकसित कीजा रही एटामिक मिसाइल टेक्नालॉजी पर चिंता जताई । नार्थ कोरिया के पांचवें न्यूक्लियर टेस्ट पर भारत की प्रतिक्रिया को साउथ कोरिया ने एप्रशिएट किया।