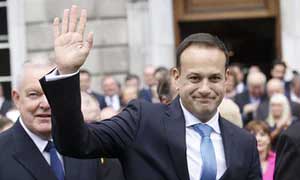 Dublin, June 15  Indian-origin leader Leo Varadkar was elected as Ireland's new Taioseach on Wednesday, becoming the youngest and first openly gay Prime Minister in the majority-Catholic country.
The new ruling Fine Gael leader won 57 votes in the Irish Parliament against 50 for his nomination as premier, while some 45 parliamentarians abstained in the vote, the Independent reported.
Accepting his elevation to the most powerful office in the country, the 38-year-old said: "I've been elected to lead but I promise to serve."
"The government that I lead will not be one of left or right because those old divisions don't comprehend the political challenges of today. The government I lead will be one of the new European centre as we seek to build a republic of opportunity," he said.
On Wednesday afternoon, Varadkar will meet President Michael D. Higgins to sign the papers that officially make him Prime Minister. He will announce his Cabinet later in the evening, Politico reported.
Former Prime Minister Enda Kenny nominated Varadkar to succeed him at the start of Wednesday's parliamentary proceedings, saying that he would carry out the role with integrity and skill.
"As the country's youngest holder of this office, he speaks for a new generation of Irish women and Irish men, he represents a modern, diverse and inclusive Ireland and speaks for them like no other," Kenny told Parliament ahead of the vote.
The son of an Indian father and Irish mother, Varadkar is a qualified doctor. He studied medicine at Trinity College Dublin and was a member of Young Fine Gael on campus and was elected as a councillor with 5,000 first preference votes a year after he entered politics.
He won the Fine Gael party leadership earlier this month.