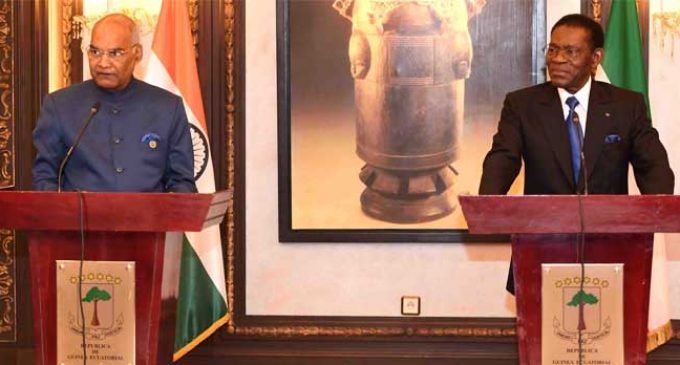 New Delhi, April 9 (IANS) President Ram Nath Kovind, who is visiting Equatorial Guinea, on Sunday urged the African nation to realise full potential of its relations with India by availing its facilities of concessional lines of credit for African countries and technical expertise in various fields including agriculture, mining, health, telecommunications and IT, an official communique said.
Kovind had reached Equatorial Guinea on Saturday evening on the first leg of his state visit to three African nations — Equatorial Guinea, Swaziland and Zambia — and held talks with his counterpart, Teodoro Obiang Nguema Mbasogo, on Sunday.
This is the first ever visit by an Indian head of state to Equatorial Guinea.
Congratulating President Obiang on Equatorial Guinea achieving the highest per capita GDP for any country in Africa, Kovind said that India was keen to partner Equatorial Guinea which is diversifying its economy and reducing its dependence on oil and gas exports. India has also decided to open an embassy in Equatorial Guinea to give a boost to bilateral relations, he said.
"The full potential of our bilateral engagement is far from realised. India looks forward to partnering with Equatorial Guinea in facilitating government-to-government development cooperation as well as business-to-business contacts," Kovind said.
He said that the economies of the two countries were "complementary" as Equatorial Guinea is endowed with hydrocarbons and mineral resources, and India with human and financial capital and low-cost technical expertise.
The President said that during the India-Africa Forum Summit of 2015, India had announced concessional lines of credit of $10 billion over five years for African countries. He urged Equatorial Guinea to avail of this facility and said that India would be happy to assist in developing project proposals in various sectors of its economy.
Later, the President attended a luncheon hosted in his honour by President Obiang.
In his remarks at the banquet, he said India was keen to enhance its development cooperation partnership with Equatorial Guinea.
"It is in that spirit India has offered assistance to set up an Entrepreneurial Development Centre and an English Language Laboratory in Equatorial Guinea. It will also do its best to support Equatorial Guinea in agriculture, mining, health, telecommunications and Information Technology," Kovind said.
Kovind was conferred with the Condecoracion, the highest honour accorded to a non-citizen by the government of Equatorial Guinea, and previously given to select heads of state from friendly countries.