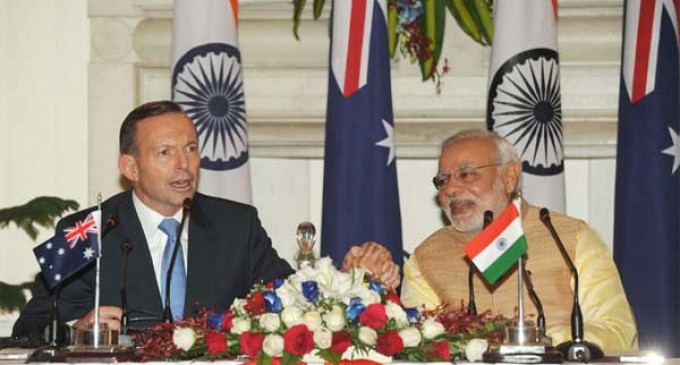 New Delhi, Nov 7 Australian Prime Minister Tony Abbott Friday called up Prime Minister Narendra Modi to discuss the agenda for the G20 Summit in Brisbane and also conveyed that he and the people of Australia were "keenly awaiting" his four-city bilateral visit to Australia.
Abbott invited Modi to share, in particular, his vision for accelerating global economic growth and employment generation based on his personal experiences of reforms and growth at the state level and his plans for India.
Abbott also sought Modi's support for Australia's infrastructure initiatives at the G20, said an official statement.
Modi deeply appreciated Abbott's "personal attention" to his visit to Australia and thanked him for his special gesture of hosting a reception for him at the Melbourne Cricket Ground.
Modi emphasised the importance he attached to his visit to Australia "as a step towards qualitatively transforming a relationship that he greatly values", the statement said.
Modi thanked Abbott for his leadership in developing a meaningful agenda for the G20 Summit and expressed confidence that the Brisbane Summit would be one of the most memorable G20 Summits, which will impart new momentum in the global economy.
Describing G20 as the key forum for global economic coordination, Modi looked forward to attending his first G20 Summit.
The prime minister also offered full support for Abbott's priorities for the G20 Summit.
Modi shared his concerns on "jobless growth" prospects and felt that focusing on transforming the quality of life of people, not just on issues like the health of the financial markets.
Modi travels to Australia Nov 14-19.