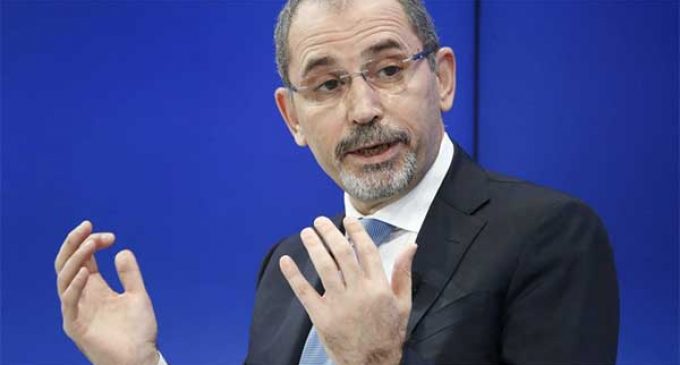 New Delhi, Dec 28 (IANS) Jordan on Thursday called for an increased role for India in the Middle East peace process while appreciating New Delhi's support for a two-state solution to end the Palestinian conflict.
"We also value an increased role for India in our region," Jordan's Minister for Foreign Affairs Ayman Al Safadi said while delivering the 27th Sapru House Lecture organised by the Indian Council for World Affairs here.
"Your support for our efforts to end regional crisis and bring about stability has had a tremendous impact," Safadi said. "We strongly appreciate your support for the two-state solution."
After US President Donald Trump this month recognised Jerusalem as the capital of Israel and the US vetoed a UN Security Council resolution opposing this, India went along with the rest of the world and voted for an Arab resolution against Washington's decision in the UN General Assembly.
Stating that the two-state solution is the only path to bring about peace, Safadi said that the Palestinians too agree that conflict is the root cause of instability in the region.
"Its resolution on the basis that guarantees establishment of an independent, sovereign Palestinian state with Jerusalem as its capital is the key to this," he said.
"The injustice of occupation has persisted for far too long. It has caused so much pain and indignity. It has to end so that this pain and anger that it produces can give way to hope and to promise."
Stating Jerusalem is a city of peace and is of tremendous importance to three religions, the Jordanian Minister said: "By international law, East Jerusalem is an occupied territory and the final status of Jerusalem must be determined through direct negotiations."
He said that peace is a "strategic choice" for Jordan and all Arab nations and everybody should work together to achieve this.
Safadi said that the Arab peace initiative is the most comprehensive solution to bring comprehensive peace in the region by bringing reconciliation between Israel and all Arab countries.
Stating that the Israeli occupation was the greatest injustice, he said that the threats it posed are enormous, including the lack of job opportunities.
Regarding foreign interventions in the matter, he said "in the Arab world, we want relations based on mutual respect".
Stating that terrorism "threatens all of us", he said that terrorists do not represent Islam.
"We are happy that Daesh (Islamic State) has been defeated in Syria. Daesh have lost all territorial control," Safadi said. "But foreign terrorists are leaving (Syria) now and pose a security threat to all of us."
He said that with terrorists using the the social media to spread their messages, "we must create a counter-narrative".
The Jordanian Minister said that Syria continues to be an open wound and still has a long way to go.
"There is only a political solution to it and the talks in Geneva should go on," he said
Safadi also said that region cannot continue fall into an abyss and sectarian conflicts cannot be allowed.
"We have to have the support, we have to have the engagement of our partners in the international community and India is such a power that has a tremendous role, enjoys tremendous respect across the region. It has historically been a voice for peace and reconciliation," he said.
Regrading India-Jordan bilateral ties, Safadi said that Jordan's King Abdullah II, who will be visiting India next year, wants to see ties expand in every field, be it in Trade, investment, tourism, education, cultural exchanges and intelligence and security cooperation as both countries face the common enemy of terrorism.