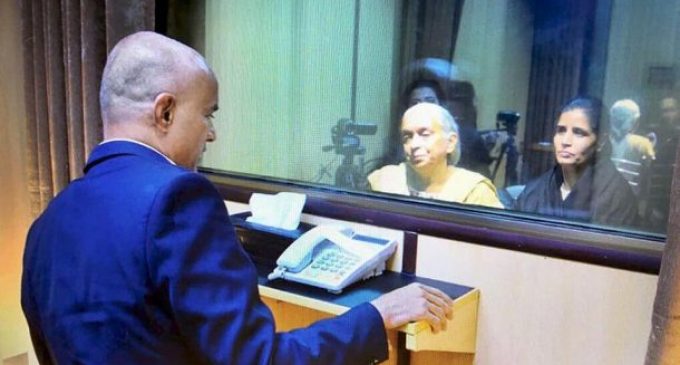 Islamabad, Feb 6 (IANS) Alleged Indian spy Kulbhushan Jadhav, sentenced to death by a Pakistani military tribunal for spying, is now facing trial on terrorism and sabotage charges too, Dawn quoted an official as saying.
The Pakistan government has also sought access to 13 Indian officials to get information in the Jadhav case – a fact that is supposedly also mentioned in the counter-memorial submitted by Pakistan at the International Court of Justice (ICJ), the official told Dawn news.
But New Delhi has remained "stubbornly uncooperative", he added.
According to the official, Jadhav, 47, has multiple cases against him in which he had been indicted on terror and sabotage-related charges.
The cases were progressing, he said, emphasising the one relating to spying had only concluded.
The official did not disclose the names of the 13 Indian individuals.
"We want to reach Jadhav's handlers," he told Dawn news.
Pakistan has also sought information about his Navy service file, bank record of his pension payment, and issuance of the passport in the name of Mubarak Hussain Patel.
According to Pakistan, Jadhav was captured by its security forces on March 3, 2016, in Balochistan.
In April 2017, a Field General Court Martial (FGCM) sentenced Jadhav to death after being found guilty of espionage.
India has said that Jadhav is innocent and has maintained that he was kidnapped from Iran where he had gone for handling his businesses after superannuation from the Indian Navy.
His appeals against the conviction have been rejected by the military app­ellate court and his mercy petition is lying with Pakistan Army Chief General Qamar Bajwa, reports Dawn news.
On December 25 last year, Pakistan arranged a meeting between Jadhav and his family — through a glass panel — but did not allow a private discussion.
The ICJ is currently hearing an Indian petition challenging Pakistan's refusal to grant consular access to Jadhav.
Oral arguments are yet to commence as the court has allowed further written pleadings in the case by India till April 17, and a rejoinder by Pakistan till July 17.
The world court has restrained the Pakistan government from executing him till it decides the case.