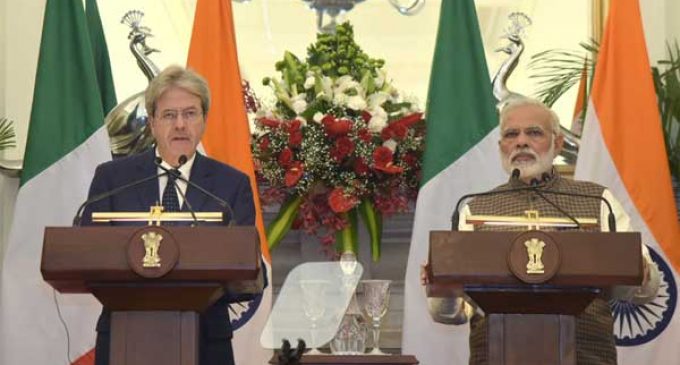 New Delhi, Oct 31  Italian Prime Minister Paolo Gentiloni on Monday said his country and India are together in opposing increasing protectionism as it is not in the interests of global trade.
In a talk on "Italy, the EU and India: A strong partnership in a time of global challenges" here, he said policies supporting growth should be complemented by those supporting social inclusion as this was a key to strengthening the relationship between developed and newly- emerged economies.
The event was organised by Observer Research Foundation and the Italian Embassy.
Gentiloni, who took a few questions after his speech, said the Italian position on Syria has always been more moderate than that of its allies.
"Our goal is to restore Syrian entity. Three million Syrians are in Turkey, one and half million in Lebanon, a lot of Syrians in Europe. Syria is a devastated country," he said.
He said a large part of world faces a common threat of terrorism and praised India, saying it was a multi-religious democracy which "itself is a extraordinary contribution to fight the causes of terrorism".
"The very existence of a democracy in this situation with these characteristics is absolutely strategic.
"India is decisive to promote and maintain stability in this region, a region directly involving our European interests not only because of nuclear threat of North Korea. We are interested in maintaining peace in Asia because of national reasons, economic reasons, maritime trade," he added.
Apparently referring to India, China and Japan, he said the Asian superpowers had stable leaderships and "the right moment to work for stability is the moment when you have strong leaderships".
He said his country's trade cooperation with China is open and frank and was positive as far as India is concerned.
In his speech, he said Italy was at the front line of global migration and there was need for a multilateral approaches.
"We need a common European policy on migration. Italy saved tens of thousands of lives at sea. The global phenomenon of migration sees us in the front line. On this, we need increasingly multilateral approaches.
"We want to see Africa thrive, socially and economically. Also, because this is the only way to manage migration flows without giving up to our principles and our humanity," he added.
Gentiloni said people live in real contexts and were not numbers or statistics and in both developed countries and newly-emerged economies, many strata of the middle-class and the low-earner groups have suffered and are still suffering.
He said international tensions will tend to subdue by strengthening inclusive growth in an open global market based on the rule of law and the principles of economic inclusion.
Gentiloni also said that there are many sectors in which Italy and India can benefit from each other's talents and expertise including infrastructure, agri-food, machine tools and green technologies.
He said 400 Italian companies operate already in India and roughly 150 Indian companies are in Italy. "These numbers are promising, but we can and will do much better," he said.