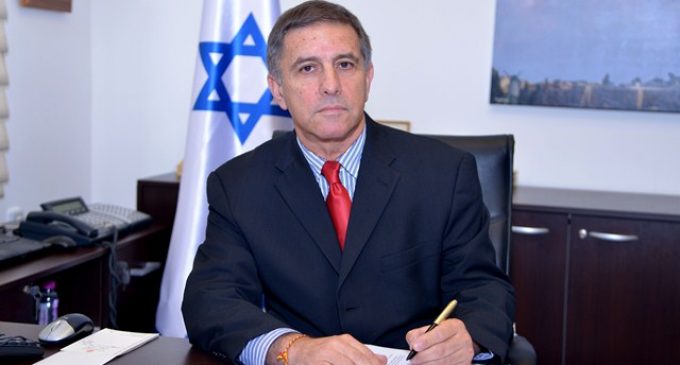 New Delhi, Dec 5 (IANS) Ahead of Israel Prime Minister Benjamin Netanyahu's expected visit to India early next year, Israeli Ambassador to India Daniel Carmon on Tuesday said that the two countries share a deep and longstanding relationship.
"We are talking about a very deep relationship between governments, between people. It is a longstanding partnership," Carmon said while speaking to reporters on the sidelines of an event to launch of India-Israel Agricultural Project Action Plan for the years 2018 to 2020 by Mashav, Israel's agency for international development cooperation.
"We have just celebrated 25 years of diplomatic relations and we are looking at the next 25, next 50 years, next 75 years in which these two countries are doing things together for the benefit of all of us."
Carmon said that Netanyahu's visit will be in reciprocation to Prime Minister Narendra Modi's visit to Israel in July this year, the first ever prime ministerial visit from India to that country.
Earlier, addressing the gathering here, the Ambassador said that the agreement for the new agricultural action plan was signed during Modi's visit.
He said that the India-Israel relationship was unique in terms of international development cooperation.
"We are sharing our knowhow with our friends in India," he stated.
Gill Haskel, head of Mashav, said that there are 20 functional centres of excellence in the field of agriculture across India set up with Israeli assistance.
Stating that Mashav's work in India was executed by Israelis, he said that this served as a bridge between people of the two countries.
"We spend 4.5 per cent of our GDP on research and development and we are shring our expertise in agriculture and agri-technology," Gaskel said, adding this percolates right down to the farmers.
According to a Powerpoint presentation made at the event, in all 26 centres of excellence were set up across nine states in India in the first two phases of the action plan while in the next phase, seven more states will be covered.
Source : Sarkaritel.com